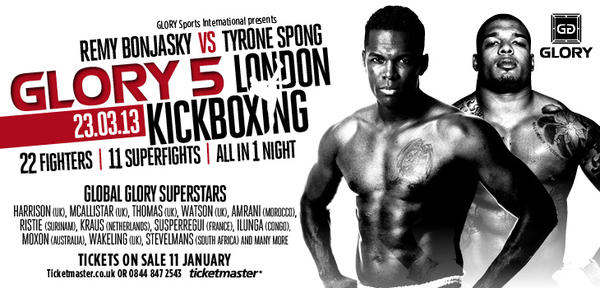 GLORY 5 London takes place on March 23 at the Excel Arena in London, England. The event is headlined by Tyrone Spong vs. Remy Bonjasky and so far two other fights have been announced in the form of Mosab Amrani vs. Liam Harrison and Jordan Watson vs. Steve Moxon.
Among other names featured on the card are Andy Ristie, Albert Kraus, Danyo Ilunga, Warren Stevelmans, Johann Fauveau, Reece McCallister, Tim Thomas, Steven Wakeling, Danyo Ilunga, Stephane Susperregui and many more. The event will feature 11 fights on the main card portion. A few of the more recent names that were added to the card are Tim Thomas and Stephane Susperregui.
Tickets went on presale today and can be purchased by clicking here and entering the code GLORYFB. Tickets go on sale to the general public tomorrow at the same link on Ticketmaster.