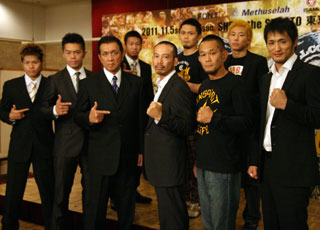 Shooto and Shootboxing have announced two more cross-promotional fights for their Shoot the Shooto/Shooto the Shoot 2011 co-promotion and they are scheduled to be MMA fights for the November 5th Shooto the Shoot portion of the event.
First, Shooto legend Rumina "Moon Wolf" Sato is set to take on Team Souwer's Nico Verresen. Veressen is a Muay Thai fighter from Belgium with a record of 40-14-3 (12 KO) and has only fought in one MMA fight which was back in February where he won by split decision. Sato has spent his entire career in Shooto, compiling a 24-15-2 against a who's who of Shooto fighters at lower weights. In a way, Sato embodies the essence of Shooto, as he never captured a title in the promotion and was unsuccessful in each of his attempts at the elite of the 155, 145 and 135lb weight classes, losing to the likes of Caol Uno, Takanori Gomi, Joachim Hansen, Alexandre Nogueira, Gilbert Melendez, Akitoshi Tamura, "Lion" Takeshi Inoue, Hatsu Hioki, and most recently, Masakatsu Ueda. Despite being on the downturn of his career, Sato should be able to get this to the ground easily and submit the Muay Thai fighter. That being said, Sato has a propensity to entertain and could turn this into a striking contest.
The other fight announced for the event is Shooto 115lb title challenger Junji "Sarumaru" Ito taking on Shootboxing's Kazuyuki Fushimi. Ito is coming off of a loss to current champion Junji Ikoma in a fight for the vacant 115lb title. Fushimi has gone 5-2 since June 2010, making it to the finals of the Shootboxing 55kg Young Caeser's Tournament, but losing to Ryuya Kusakabe. He was set to fight Shooto 123lb champion Yasuhiro Urushitani in February, but Urushitani pulled out and Fushimi ended up losing to Koya Shimada. He is currently on a 2-fight win streak. This should be a fun fight as Ito is primarily a striker and although it may be in his best interest to get it to the ground, I doubt he will do so. Ito joins Shooting Gym Yokohama teammates "Lion" Takeshi Inoue and "Wicky" Akiyo Nishiura as participants in the cross-promotional event, but is the first to do so in MMA.
A while back, RISE announced it would be holding a heavyweight tournament with Stefan Leko and Mighty Mo representing K-1. Fabiano Cyclone (Fabiano Aoki) and Hiromi Amada won their way into the tournament with wins back in July and Makoto Uehara was placed in the tournament as the RISE Heavyweight champion. RISE announced two more fight-in spots, which were won by Singh "Heart" Jaideep and Raoumaru back in September and RISE announced the final participant to be K-1 veteran and 2nd place at the 9th World Karate Championships Jan Soukup. The tournament will take place at RISE 85 on November 23rd which is the same event that Rena and Erika Kamimura face off to become the first "Queen of RISE" as well as a fight for the vacant 55kg Bantamweight title between Yuta Kubo's brother KENJI and #1 ranked Dyki. As far as I know it is a one night tournament and RISE will announce the quarterfinal matchups on Tuesday the 25th.{jcomments on}