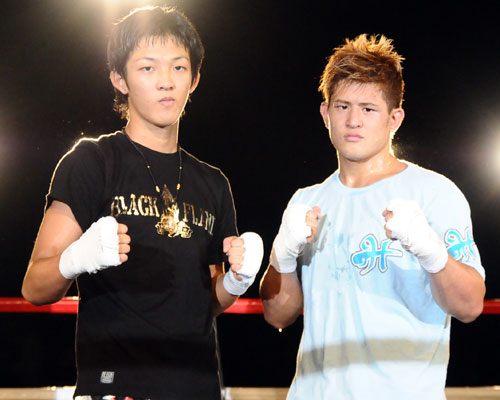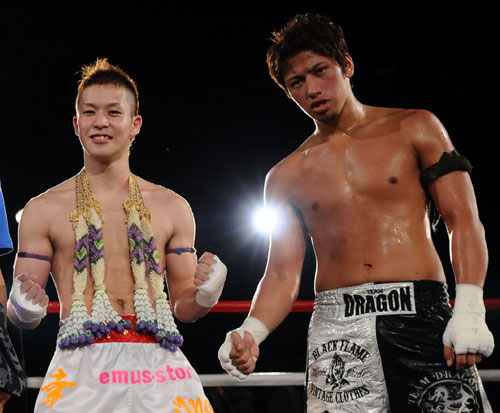 Earlier today at Shinjuku FACE, Krush held the first two rounds of their Under-22 Supernova Tournament to determine the 4 semifinalists with blocks A and B competing in the afternoon and blocks C and B at night.
During the day in Block A, 2010 K-1 Koshien quarterfinalist Sho Ogawa was able to edge out an extension round decision over Tang Tang Fight Club's Fumiya Osawa, winning the extension round 10-9 on all 3 cards. In the other half of Block A, 2008 K-1 Koshien champion and one of the tournament favorites HIROYA ran through his opponent, Hiroshi Hoshikawa, scoring a knockout just 1:35 into the first round. In the Block A final, HIROYA dominated Sho Ogawa, winning a unanimous decision on scores of 30-27(x2) and 29-26 to advance to the semifinals.
In the other half of the matinee portion of the event, Block B favorite and 2009 K-1 Koshien champion Masaaki Noiri scored a knockout at 1:25 into the 3rd round over Violence. In the other half of Block B, Team Dragon's Daizo Sasaki also scored a 3rd round knockout at 1:24 in the round over Silver Wolf's Shota Fukuda. In the Block B semifinal, Masaaki Noiri scored another knockout, this time 1:42 into the 2nd round to secure his spot in the semifinals against HIROYA.
This fight is a rematch from the 2009 K-1 Koshien semifinals where Masaaki Noiri shocked nearly everyone and made a name for himself with a dominating, entertaining win over HIROYA. The win would be huge for either fighter.
In the night portion of the event, RISE #6 ranked Super Lightweight Shimpei Keita cruised past J-NETWORK's Hiroshi Matsui to take a unanimous decision on scores of 30-28(x2) and 30-27. In the other half of the bracket, tournament favorite Koya Urabe also cruised past Yuta Otaki, taking a unanimous decision on scores of 30-27(x2) and 30-28. In the Block C final, Koya Urabe faced more resistance than one would have thought from Keita, but was still able to defeat Keita on scores of 30-29(x2) and 30-28.
In Block D, Yukimitsu Takahashi edged out Kazuma in an extension round, winning 10-9 on all 3 cards. In what could be considered a bit of an upset, former K-1 Koshien fighter Kengo Sonoda edged out J-NETWORK Flyweight champion Tsukasa Fuji on scores of 30-29, 30-30 and 30-28. Size was likely a factor as Fuji fights about 10kg under the 63kg weight limit for this tournament. In the Block D final, Takahashi caught Sonoda with a hard head kick 25 seconds into the 3rd round and Sonoda was unable to recover, giving Takahashi the KO win.
This sets up a semfinal between Koya Urabe and Yukimitsu Takahashi. Urabe, already the tournament favorite before the brackets were announced, should have his status as tournament favorite bumped even higher. Takahashi showed he is no slouch and Urabe struggled a little with Keita, but Urabe should be able to cruise into the finals while the winner of Noiri-Hiroya will likely be dinged up from the semifinals. However, if the pattern of the Krush tournaments of favorites losing in the later rounds hold, Takahashi could see himself with a big upset win, though I find it more unlikely as Krush tournament champions Shota Takiya, Hirotaka Urabe, Ryuji Kajiwara and Kenta were more overlooked talents while the focus was on fighters like Ryuya Kusakabe, Masaaki Noiri, Koya Urabe and Hiroki Nakajima.
The tournament's conclusion will take place on December 9th and if Naoki Ishikawa gets his way, he will fight the winner of this tournament at some time after that.
Quick Results after the break
Block A Semifinal: Sho Ogawa def. Fumiya Osawa by Ext Rd Decision (10-9, 10-9, 10-9)

Block A Semifinal: HIROYA def. Hiroshi Hoshikawa by KO 1:35 into Rd 1.

Block B Semifinal: Daizo Sasaki def. Shota Fukuda by KO 1:24 into Rd 3.

Block B Semifinal: Masaaki Noiri def. Violence by KO 1:25 into Rd 3.

Block A Final: HIROYA def. Sho Ogowa by Unanimous Decision (30-27, 30-27, 29-26)

Block B Final: Masaaki Noiri def. Daizo Sasaki by KO 1:42 into Rd 2.
Block C Semifinal: Shimpei Keita def. Hiroshi Hoshikawa by Unanimous Decision (30-28, 30-28, 30-27)

Block C Semifinal: Koya Urabe def. Yuta Otaki by Unanimous Decision (30-28, 30-27, 30-27)

Block D Seimifinal: Yukimitsu Takahashi def. Kazuma by Ext Rd Decision (10-9, 10-9, 10-9)

Block D Semifinal: Kengo Sonoda def. Tsukasa Fuji by Majoriy Decision (30-30, 30-28, 30-29)

Block C Final: Koya Urabe def. Shimpei Keita by Unanimous Decision (30-29, 30-29, 30-28)

Block D Final: Yukimitsu Takahashi def. Kengo Sonoda by KO 0:25 into Rd 3. {jcomments on}