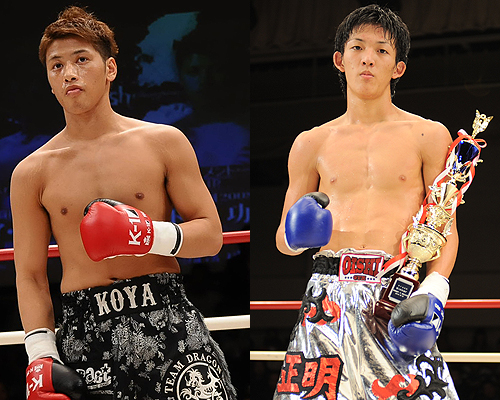 Krush has revealed the first 8 participants of the Krush -63kg Under-22 Supernova Tournament and while it may not have all of the big names that we expected, it does contain two of the best fighters that could participate in the tournament. K-1 -63kg 2011 Japan Tournament Runner-up Koya Urabe and K-1 Koshien 2009 Champion Masaaki Noiri were announced as participants and, among the 8 that have been announced, are by far the favorites in the field. Urabe has already made it to the finals of two tournaments this year, losing to Ryuji Kajiwara in the finals of the Krush tournament and to Yuta Kubo in the finals of the K-1 tournament. He just picked up a decision win over Marimo at Krush.11, as well. Noiri made it to the semifinals of his two tournaments, losing to "Kyoken" Yuji Takeuchi in the Krush tournament and Yuta Kubo in K-1.
Also announced for the tournament are:
J-Network Flyweight Champion and K-1 Koshien vet Tsukasa Fuji. An interesting choice considering he fights at 53kg, but he holds a win over Ryuya Kusakabe. Also interesting because it means Ryuya Kusakabe and Shota Takiya may compete as well.
K-1 Koshien vet and member of Team Dragon Daizo Sasaki. He went 1-3 in Koshien with losses to Ryuya Kusakabe and Ryuma Tobe.
K-1 Koshien 2010 Final 8 Sho Ogawa. Ogawa won a pair of decisions before losing to eventual finalist Hiroki Akimoto by extension round decision.
Tang Tang Fight Club's Fumiya Osawa.
RISE #6 Ranked Super Lightweight Shimpei Keita.
K-1 Koshien vet Kengo Sonoda. He went 0-2 in Koshien, losing to HIROYA and Katsuki Ishida.
The final 8 participants should be announced soon. {jcomments on}