By Daniel Fletcher
Every champion falls, every great fighter declines, and every star burns out or fades away. It is the nature of the beast; as inherent and inexorable a fact as that the Earth orbits the Sun, that grass is green and that Michael Schiavello will scream "Goodnight Irene!" during a fight broadcast when a fighter gets sparked. To get proverbial, what goes up must come down, and as a promising young fighter embarks on his career, the ageing warrior must one day reach the point where the journey must end.
Andy Howson lost his ISKA world title last night, and subsequently announced his retirement. He was cheered by a raucous following, and hugged by the friend that had just relieved him of his championship belt. The show was over.
After 13yrs, he admitted that the young had usurped the (comparatively) old, and that his time was done. "After 13yrs, a lot of hard fights and a few world titles" was his own way of putting it, but he neglected to mention the respect of his peers, the support of his friends and his team, and the fact he went out being cheered. Hey, home town or not, even legends get booed at the end... just ask Nigel Benn. Going out to cheers and applause is a pinnacle.
As for the fight itself, it was a counter-striking technician against a shorter, more brawling orientated scrapper in Andy. Dean James used his range well, and though he initially showed Howson a great deal of respect in a cautious opening round, he turned it up a notch in the final minute of the second. A standing elbow landed precisely, arcing down onto Howson's head and cutting him open. The blitzkrieg was expected from the defending champion in the third, but it was this round that the downfall continuted; while Andy pressed, James began to pick him off and avoiding the inside work, landed another elbow from the clinch. Wobbled, Howson was forced back to the ropes, and a short elbow from the clinch dropped him. He survived the round.
(Photo courtesy of http://muaythaiphotos.com)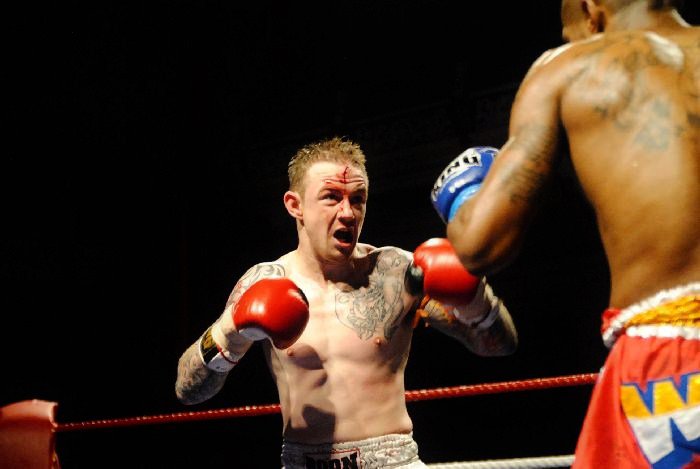 The fourth round spelled the end. As one fan put it, Howson "went crazy as only he can", and tried flurrying to turn the contest into an all out brawl. James complied to some extent, and should be credited for not playing an overly cautious technical game in his victory; this was an exciting contest. Alas, it had to end, and after allowing the bout to continue following a check up, the referee called another halt as the two head wounds spat blood, some of which was running down into Howson's eyes. An audible groan went round, as Dean James was declared the new ISKA World Bantamweight champion, and Howson's reign was ended.
Ultimate respect to Andy Howson, one of Leeds, Yorkshire and England's best Muay Thai fighters, and a very likeable guy.
Jordan Watson did not compete on the card, as his recent title defence over Cedric Mueller of France was still reminding his body about it. He did, however, speak very candidly with me about the 70kg MAX division he competes in, and there will be more on that in my next upload. Stay tuned.
Howson's retirement and Watson's non-participation didn't entirely cast ill-omen on Bad Company at the event, and they had their moments of triumph too. Lee Mundin outpointed Jo Boffey, thanks to a Herculean comeback in the final two rounds. Boffey had nudged ahead on the scorecards leading into the fourth, but Mundin earned a win for Bad Company in handsomely outlanding and outworking Boffey and taking the decision victory.
Also a victor was "Nice Guy" Eddie Long. The unassuming 78kg fighter has a peculiar hunched stance, his chin tucked and hands held outwards Remy style. It led me to ask his sparring partner, "The Myth" whether or not Long had a glass jaw that needed protecting at all costs. Not only the answer he gave, but the fight in question proved that he certainly didn't - Lee Keegan was unable to hurt him, and struggled to deal with the leg kicks dished out by the Bad Company man. At the end of the first round, his right leg was visibly wilting, with redness showing at the back of his thigh, and the expected finish came soon after. Despite his outward calm, Keegan backed into his corner and was more focused on blocking Long's leg kicks as opposed to dishing out his own offence, and after one too many right lowkicks, he buckled, and was unable to beat the count.
Off to a winning start for Long, who will look to compete at a forthcoming HGH Promotions or Bad Company promoted show. Who says nice guys finish last?
(photo from Andy Howson's facebook with permission. Credit to http://howarthphotography.co.uk)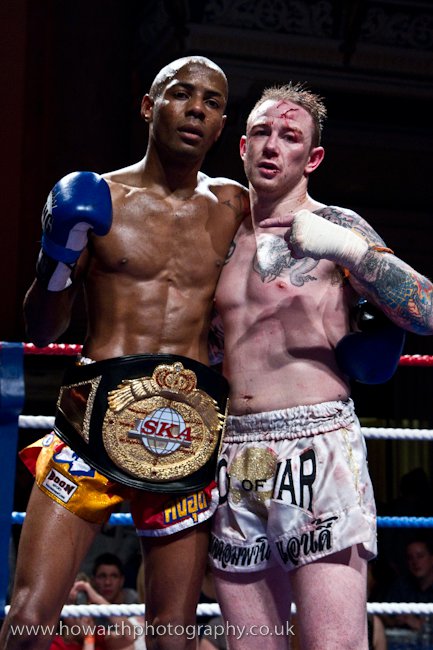 If Kyle Fella is Bad Company's Badr Hari, that would make Loz Reilly the Remy Bonjasky or Hesdy Gerges of the piece, after the end of their infamous fight at the last HGH event. While the foul resembled Badr on Gerges, the fact that the kick apparently only glanced off him yet totally incapacitated him until the disqualification was announced... that swings Reilly more towards Bonjasky. Only white, and four inches shorter. At any rate, he fought on this event too, after Fella was pulled from the card with a baby on the way. And he fought well, securing a UD in a 61kg bout with Brian Cryton. Reilly is a good fighter, and keeps his distance well and uses strong knees. He's definitely a talented fighter and one to watch on the UK scene.
Surprise performance of the night came from Liam Grey. It wasn't a surprise that he won per se, but that he wasn't gassed out from the first three rounds of non-stop pressure. Usually adrenaline drains fighters and they are unable to perform as they do in sparring, but Grey of Golden Team should probably change his surname to that of his fight camp. Grey it wasn't, golden he was. Five rounds of action, he claimed a unanimous decision over an opponent in Jonny Chapelow who left it far too late before launching his own late offensive. Great fight.
Knockout of the night has to go to "Pav" of Tobin's Gym. After the initial onslaught in his fight, I commented to the Myth that he "reminds me of K-1 era Cro Cop - nothing but boxing and head kicks. Pure headhunter". How very apt that proved to be, when he backed his opponent Jonathon Carrey up with a barrage of punches and as the Douglas Muay Thai man committed that cardinal sin - turning his back - Pav launched a head kick that put him out before his head hit the floor, Mirko style. As Schiavello would have screamed; Good night Irene!
The winners and methods were as follows:
*Dean James W TKO Andy Howson - wins ISKA World Bantamweight title
*Lee Mundin W PTS Jo Boffey
*Liam Grey W PTS Jonny Chapelow
*Loz Reilly W PTS Brian Cryton
*Eddie Long W KO Lee Keegan
*Pav W Goodnight-Irene-KO Jonathon Carrey
*Bailey Roberts (junior) W PTS Joe Craven
*Kenzie Roberts (junior) W PTS Harry Brecken
DF