Written by Daniel Fletcher
By Daniel Fletcher
Another world championship Muay Thai card will be hosted in Leeds (capital of the north) this weekend at the Leeds Town Hall, when Richard Smith's Bad Company Gym put two of their leading lights in hotly anticipated rematches, in both cases to retain their respective honours. Andy Howson and Jordan Watson share three things in common; they are Leeds lads, fight out of Bad Company gym, and hold ISKA World title belts, one of which will be on the line come Saturday as Howson takes on former foe and friend Dean James. Watson is fresh from a title defence in April, but the fight is not without significance as this rematch from The Contender will determine the #1 ranked super-welterweight, or 70kg MAX fighter in Britain.
In their first meeting, the likeable Howson dropped a decision to the current #1 ranked Bantamweight James on the stacked show at the London Excel, headlined of course by Watson vs. former 2x K-1 MAX champion and Lumpini tournament winner Buakaw Por.Pramuk. Howson feels that he did not perform to his best abilities on that night, and after recovering and going on to win the ISKA world title at bantamweight, he looks to avenge the previous defeat and claim the undisputed #1 rank in Britain.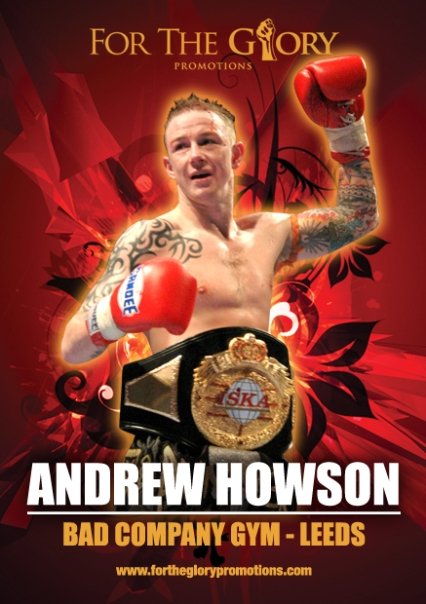 Watson for his part lost that night too, though in taking the superstar Buakaw the distance and extending him to the point of doubt come the time for scorecards, he earned a new level of respect on the English, UK and international circuits. He too went on to win ISKA honours, which he has just defended. This fight though, a rematch from the Contender and one that he is favourite to win, would cement him as the best 70MAX Muay Thai boxer in the UK, and that may well be just as important to him.
Watson has been a tipped prospect in British Muay Thai since his teenage years, with the East Leeds youngster winning seven junior titles and quickly rising up the adult ranks as a boy. Since fighting international competition, he has beaten multiple top ranked opponents, had an even bout with one of the true superstars of stand-up fighting in Buakaw, and has won a world title. He's 23, and there's more honours on the horizon for him.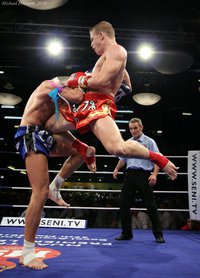 Full card (confirmed) as follows:
ISKA 55MAX world title
Andy Howson (Bad Company) v Dean James (Pra Chao Suaa)
Non-title fight - for UK #1 ranking at 70MAX (ISKA super-welterweight)
Jordan Watson (ISKA world champion, Bad Company) v Craig Jose (Fight Faktory)
Kris Addis (Kao Loi) v Chris Shaw (Scotland)
Kyle Fella (Bad Company) v Robin Downer (Scotland)
Sarah McCarthy (Bad Company) v Maria Pantazi (Greece)
John Dennis (Bad Company) v Michael Wiseman (Caledonian)
5x1.5 Kenzie Roberts (Bad Company) 34kg v Harry Brecken Kao Loi 34kg
5x1.5 Bailey Roberts (Bad Company) 46kg v Joe Craven Calder 49kg
5x2 Andy Bakewell (Waterloo Street) 78kg v Danny Derbyshire Burnley 78kg
5x2 Kate Stables (Bad Company) 52kg v Hayleigh Clarkson Semtex 52kg
5x2 Eddie Long (Bad Company) 78kg v John Walker (Jai Muay Thai) 78kg
5x2 Danny Derbyshire (Burnley) 77kg v Andy Bakewell (Waterloo Street) 76kg
5x2 Karl Stoddart (Jai Muay Thai) 64kg v Mani Singh (Griphouse) 64kg