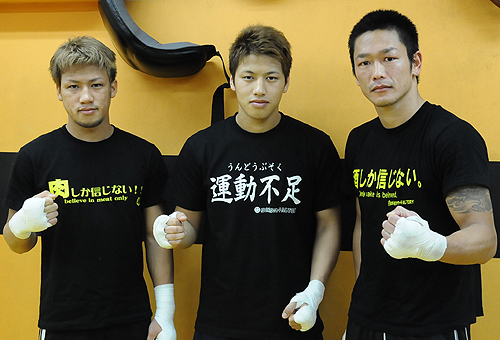 Brothers Koya Urabe and Hirotaka Urabe along with fellow Team Dragon member Ryuji Kajiwara held a public workout today in Japan as they prepare for next weekends Krush Triple Final Round 2011. The event will feature the conclusion of the 63kg, 60kg and 55kg tournaments.
20-year old Koya Urabe defeated South Korean Sung Hyun Lee in the 63kg quarterfinals January 9th and will now face 2009 Krush Rookies Cup winner Takuya Shirahama in the semi's. The youngest of the Urabe brothers, Koya has an impressive 6-1 K-1 record and was the 2008 K-1 KOSHIEN runner-up.
In the other 63kg semi-final, teammate Ryuji Kajiwara will face Kizaemon Saiga. If both Koya Urabe and Kajiwara win their respected matches we'll have an all Team Dragon 63kg final.
The eldest Urabe brother, 21-year old Hirotaka Urabe, will meet Dynamite Yuta in the semi-final at 60kg. Hirotaka was the 2007 All Nippon Shinkarate Light & Middle Weight Tournament Champion and holds a 2-2 record in K-1.
The March 19th Korakuen Hall event along with the tournament fights will also be highlighted by the 70kg Superfight between between K-1 MAX fighter Yuya Yamamoto and MMA veteran Akihiro Gono.