Evening everyone, I'm sitting here ringside at Madison Square Garden, 30 minutes before the fight's supposed to go down. Good stuff is about to happen, as 13 kickboxing fights are about to happen here in the heart of New York City. Muay Thai and a "full K1 rules" event are pretty much guaranteed to have some blistering knockouts and wild action.
Check back here at the bottom of this fanpost for live results and pictures as the action goes down, as I'll be updating constantly.
The main event features two of America's best current Muay Thai combatants, Cyrus Washington and Chike Lindsay. Hardcore MMA fans might also recognize UFC vet Ryan Madigan, who lost to Tamdan McRory back at UFC 96, Jackson vs. Jardine. Check out the highlight video of Cyrus and combination interview/highlight video of Chike:
http://www.youtube.com/watch?feature=player_embedded&v=MYZ9u8AwtEs
http://www.youtube.com/watch?feature=player_embedded&v=u5K9WFzLc2w
Results after the break.
155 Lbs: Cyrus Washington [50-20 48KO] vs. Chike Lindsay [15-4] - Main event time, and we've got both fighters doing their pre-fight Wai Kru rituals. Both bow to the crowd and each other. Lindsay is he taller fighter while Washington has a deadly serious look on his face and tree-trunk looking legs that are reminiscent of Benson Henderson. They exchange leg kicks to open up. The crowd is silent, partly in anticipation, and partly because they're evenly striking and clinching, without a big advantage from either man. Washington lands a good leg kick at the end of the round.
A pair of rear-leg body kicks from Washington to open the round, while Lindsay hits a cross. Even exchanges from two powerful-throwing pros. Washington blocks a high kick and lands an uppercut-looking punch. A couple of bananas in the crowd start booing which I'm not getting, as both men are landing. Lindsay with a nice left, teep and right hand in close succession. Glancing low blow gets the briefest of pauses and that's the last action of the round.
Lindsay seems to be finding his range a bit better. Washington slips on a high kick, and ass he goes down, Lindsay throws a kick aimed where Washington's feet were, but Lindsay falls and the lowkick thuds into his lower sternum. No damage, however, as the ref asks Washington who says he's fine. Washington misses a front kick and eats a leg kick for his trouble. Lindsay sweeps Washington down. Washington misses a head kick again and Lindsay follows with a right knee to the ribs.
Lindsay has been the much more accurate fighter so far, and while both gentlemen appear to have rock-solid chins, these shots are landing and landing hard when they get through. Lindsay working the body with lefts and kicks. Lindsay hits a pair of sweeping low kicks that send Washington to the mat. Two quick jabs by Lindsay, as he's pulling away from Washington.
Washington is getting a bit wilder, as he seems to realize that he needs the knockout or at least a couple of knockdowns to win this. None of the haymakers have connected so far, and the gaps in his defense are giving Lindsay opportunities to land some good blows. High kick from Lindsay that Washington gives a little head shake to. Fifteen seconds in the match and Lindsay lands a solid teep, bouncing Washington into the ropes. They end with a flurry. Official results: Chike Lindsay wins via unanimous decision (50-45 x2, 49-46). Have a good night everyone!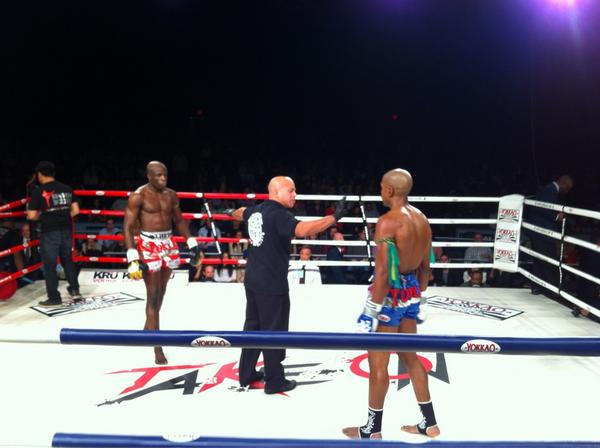 Lindsay (left) squares off with Washington.
147 Lbs: Eddie Martinez [20-8] vs. Angelo Campoli [21-7] - Clinching up in the corner nearest to me, they trade knees and Campoli ends up throwing Martinez down and landing a late knee on a prone Martinez. It wasn't too solid, and Martinez smiles it off. Martinez kicks high and while Campoli catches it, it still landed. They end the round clinching up against the ropes.
Solid body kick from Martinez. Martinez with a couple of good body knees from the clinch. Campoli backs Martinez to the far ropes and knees him in the gut, then Martinez reverses and does likewise. Campoli with a series of straight punches that landed, but weren't thrown with full power. Teep from Martinez. Campoli counters a kick with a punch to the right side of Martinez's rib cage that thuds hard. Close round.
Closely contested action here again. Fairly even exchange of punches, kicks and knees from both fighters. Martinez with a nice low kick. Campoli answers with a body kick. They get tangled up and come crashing down right near me, with Campoli landing under the ring ropes and almost falling on the timekeeper.
Slower pace as Martinez clinches Campoli into the corner, and the ref breaks them. An accurate right from Campoli does the sweat spray on Martinez's head. Campoli misses a head kick and Martinez gets a good left to the jaw in. Thirty seconds left in the round, as Campoli lands a straight. Martinez backs him into the corner and lands a nice inside leg kick. Campoli with a takedown from the clinch as the round ends.
Final round and I think Campoli's corner is urging him in incredibly loud Italian to "BOX HIM!". I think. Close round to start, as they trade body kicks and punches. Solid blows from two fighters who know they're in a close fight. Good boxing from Campoli (heeding his corner's advice), while Martinez is landing good kicks to the body. Mid-level power, as both fighters seem to be taking a little care that their punches land. They flurry at the end and the bell sounds on a close fight. Official results: Eddie Martinez wins by unanimous decision 49-46 on all the judges scorecards. One of the judges, Mike Washington, is right in front of me, and I tell him "that's a rough fight to score, lot of close rounds." Mike just gives a small nod with a sardonic look.
132 Lbs: Jay Matias [16-6 11KO] vs. Cody Moberly [0-0] - Cody Moberly, fighting out of Kansas, does the traditional Muay Thai dance before the fight. Esteemed photographer Bauzen walks by me and tells me "If ya don't know, now ya know... Jay Matias. This is gonna be good." Moberly sweeps Matias' leg off a high kick which sends him crashing hard to the mat. Matias with some fancy footwork and feints, then lands a left body kick. Matias backs Moberly into the ropes and rips a liver kick. Moberly circles away to his left, and Matias follows. He fires a four-shot combo including another ripping liver punch. Matias lands two good knees and Moberly crashes down to the canvas. A heckler from the crowd yells out "YOU'RE NOT IN KANSAS ANYMORE!" and Moberly has that "what hit me?" look on his face. They re-engange and Matias presses forward, landing combos almost at will. A flash knockdown from a straight doesn't yield a count from the ref, as Moberly stands right back up, but that becomes academic as Matias flurries, culminating with a knee to the forehead that gets Moberly down and gets that 8-count. The ten-second slap comes and Moberly tries hard to fire back and end the round on a high note, but he gets pushed back into the corner closest to me and Matias goes large with a flying knee that connects direct to the temple and out goes Moberly. Official results: Jay Matias wins by KO at 2:57 of the first round.
Here's the (admittedly shaky) video of the Matias fight. Kindly note that I am NOT the cameraman, so don't blame me! http://youtu.be/Q6JKDEvf-B8
And here's the pro cameramen with the ending: http://telly.com/4CHK6
155 Lbs: Nick Vaughan [14-1] vs. Phillip LeGrand [11-1] - Vaughan is cornered by the famous Phil Nurse who stands in center ring, staring down the red corner who he's clearly friends with. Solid start from both men, as they exchange well. Technical, straight punches from both men here - no wild swinging yet. Even back and forth action so far, with the mohawk'd LeGrand trading even with the bald Vaughan. They end the close round trading body shots.
I can't even comprehend how many nutshots I've seen tonight. This is Cro Cop's worst nightmare come to life as LeGrand turns sideways as Vaughan throws a kick to the thigh and it resonates off his cup. Also it turns out that LeGrand forgot his mouthpiece, so his corner takes advantage of the break to make sure the rest of his equipment is in place. LeGrand is a bit fired up as he presses Caughan into a corner, but Vaughan gets out of there and... you've gotta be kidding me. ANOTHER low blow on LeGrand. No point deduction, but the ref looks pissed off at this point and gives Vaughan a stern talking to. Vaughan catches LeGrand off balance and a teep sends him to the ground. A frustrated LeGrand lands a lovely little outside trip, which would score well in a Judo match, but has the ref warning him here. LeGrand slips a punch and lands a nice left that sends sweat spraying off of Vaughan. LeGrand ends the round with a flying knee attempt that doesn't land solid.
LeGrand is on his bike here, trying to pick his shots on the closing Vaughan. They're circling with brief exchanges. LeGrand eats a teep to the mouth that nearly sends his mouthpiece flying, but recovers and gets out of danger. LeGrand catches a kick and sends a lowkick to the back of Vaughan's leg that has Vaughan limping, but I still think that Vaughan takes the round due to the forward pressure and volume that he landed earlier. Official results: Nick Vaughan wins via split decision, (29-28 x2, 28-29).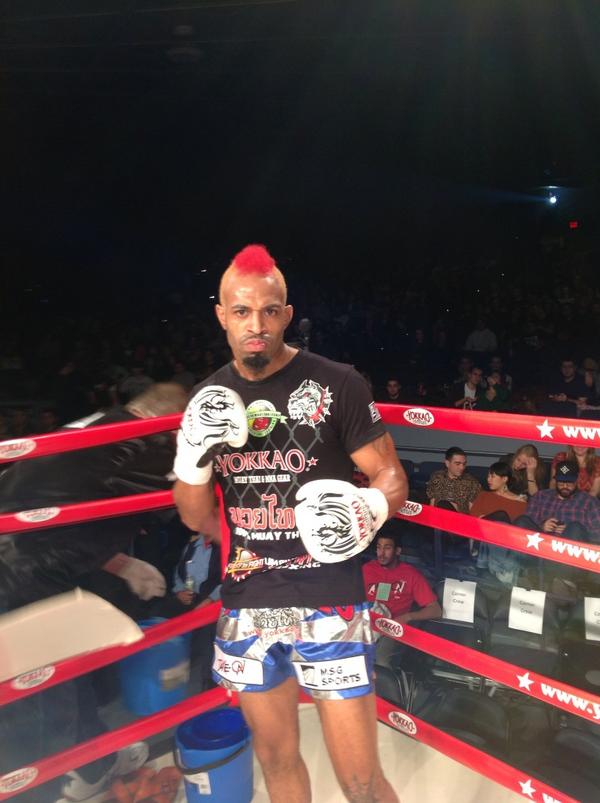 Phil LeGrand pre-fight.
175 Lbs: Ryan Madigan [27-6-1] vs. Tarek Rached [26-3] - This fight is going to be contested under K-1 rules, and will be three three-minute rounds. Lot of MMA connections here, with Madigan - a former UFC veteran - who trains with the Ohio affiliate of Evolve MMA (the Singapore-based training camp where a number of big names of trained at, including Shinya Aoki, Rich Franklin and more). None of the traditional music, which has the crowd confused a bit, but we're informed that since this is K-1 rules, no music. Solid punches and kicks from these experienced fighters. Rached is just the latest to suffer a low blow, as Madigan gets a bit sloppy. No real harm done, as they re-engage after a brief pause. Rached looks to be landing the straighter punches and kicks. The boards clap to signify ten seconds left and Rached lands a series of low kicks directly to theleft knee of Madigan that sends him to the canvas in pain. The last kick seems to have done some damage to the previously surgically repaired knee. Madigan doesn't get up as the ref counts and Rached wins! Official results: Tarek Rached wins by KO at 2:59 of round 1
145 Lbs: Joey Hernandez [6-3] vs. Sean Fagan [10-3] - I'm back to giving props to the DJ for Naughty by Nature, Dropkick Murphys and Notorious B.I.G. in a row. Fagan suffers from a growing epidemic of cupchecks early, this one draws a warning to Hernandez from referee Chris Wagner. Fagan with some solid power shots that probably won him the first of the five rounds. His corner thinks so as well.
Fagan with a big overhand right that I hope one of the photographers caught - it was a perfect punch shot with sweat flying off the head of Hernandez because of the impact. Hernandez landing a nice low kick followed by a sweeping left punch. No exultations of a round won from Fagan's men this time, as it was much harder to call.
Fagan landing some good low kicks to the back of Hernandez's knee. Solid flurrying from both combatants. Hernandez with a slapping leg kick and Fagan with a big hook. Another close round, but this one definitely leans towards Fagan if you ask me.
If low blows were a zombie epidemic, this event would be turning into the Walking Dead as Hernandez gets sloppy again. The ref gives Fagan five minutes, of which he takes a brief couple. They flurry and YET AGAIN Fagan eats one in the pills. The ref's seen enough on this one and takes a point from Hernandez as Fagan recovers in the near corner. Teep from Fagan causes a slip from Hernandez. They re-center and go back to firing away, mostly with kicks. Close round, but Hernandez losing that point means this fight might be slipping away from him on the scorecards.
Hernandez is coming out firing as he knows he's down on the cards, but Fagan is unfazed and combos him hard. A big right sends Hernandez to the ground and the ref counts as he rises. They restart and Fagan is putting the heat on a fading Hernandez. He backs him into a corner and starts unloading, which forces the ref to step in for a standing-8 after Hernandez eats a half dozen unanswered shots. Fagan wants to end this and goes right back after him, backing him into the ropes and unloading. The ref is watching closely and after three big rights that all land flush on Hernandez's head, Wagner steps in to end it. Official result: Sean Fagan wins by TKO at 1:29 of the 5th round. Fagan is the new 145-lb title holder.
147 Lbs: Henry Lee [1-0] vs. Sokun Kit [3-1] - Lee has an enormous cheering section with him. Solid exchanges from both. Kit gets his legs swept out from underneath him, but gets up and lands low to cause a brief stoppage. The southpaw, Lee is blocking punches with his power bicep from the orthodox Kit and his arm is turning red, which Kit's corner hollers at him to go after. Round ends with another low blow to Lee that goes unnoticed from the ref, but doesn't damage Lee.
Lee comes out the aggressor, backing up Kit and taking his legs out from under him on a lowkick. Kit has a reach advantage, and a few of Lee's punches are falling short. Lee looks to be the stronger man, as his shots are landing loudly. The round ends with Kit on his butt again from another sweeping legkick.
Another ping to the cup from Kit causes an early break, but when the action resumes, Kit lands a big flurry on Lee up against the ropes and scores a knockdown off a headkick and an 8-count. Lee has Kit backed up against the ropes and they're swinging hard while his cheering section behind me is going badonkas. Ten seconds left in the round and Lee is trying, but Kit is going to get the win with that knockdown in the last round. Official results: Sokun Kit wins via Unanimous decision, (30-26, 29-28, 29-27).
155 Lbs: Elijah Clarke [12-4] vs. Angel Flores [6-3] - Clarke is yet another Renzo student on this card. Good clinch knee from Clarke, but the shorter Flores answers back with a solid left. Clarke teeps Flores off balance, but eats an accidental low-blow for his troubles just a few seconds later. Clarke with a high kick that slaps incredibly loudly on the bicep of Flores. Exchange of head kicks to end the close round.
Clarke showing off a bit, bobbing and dodging three strikes in a row from Flores. Clarke bullies Flores to the canvas and then into the corner where he lands some good clinch knees. The round ends with Flores landing Tim Beotsch-esque wild uppercuts before missing on a lunging punch that Clarke weaves away from.
Flores is looking to get inside and land power shots, but Clarke is doing a good job keeping him at bay with his length. Clarke with some good strikes after backing Flores into the corner. Flores charges at Clarke which puts him on his bike. They re-center and Clarke lands a pair of shattering leg kicks that makes the ref step in for an 8count as Flores is limping badly. Official results: Elijah Clarke wins by unanimous decision 30-26 on all cards.
CHECK OUT THE ACTION FROM THE FIGHT http://youtu.be/m1SyOJ4XhZg
185 Lbs: Ariel Abreu [6-0] vs. Steve Hernandez [5-1] - Hernandez is another Renzo Gracie student, for the MMA fans in the audience. This is a title fight, despite it only being three rounds. No touch of gloves and Abreu comes out with bad intentions, missing a huge right to open up. Abreu trips Hernandez. They reengage and Hernandez lands some solid combos. Abreu with another trip takedown, landing heavily on top of him. Hernandez kicks the legs out from under Abreu and ten seconds later lands a big, wide right that sends Abreu to the mat. Abreu stands up and the round ends with the ref counting the remaining 8. Hernandez is fired up.
Abreu gets his legs taken out from under him again to open up the 2nd. Herandez firing in rapid succession, backing up the stockier Abreu. Hernandez backs Abreu into the near corner, but Abreu fires back when Hernandez comes in close. Hernandez with a throw that was more judo than muay thai. Solid left from Abreu near the end of the round and it ends in a good exchange.
Remember when I complimented the DJ on his choice of AC DC? Well boourns for Linkin Park. Abreu comes out smoking, sitting down on every punch, perhaps knowing he's down on the cards after that first round knockdown. Abreu grabs a clinch and uses it to hurl Abreu into the near corner, using his momentum bouncing off the ropes to score with a solid punch. Mild bit of controversy, as Abreu drops his hands, egging on Hernandez, who obliges with three unanswered punches. This sends the ref stepping in to give Abreu a standing 8, to Abreu's protestations. Taunting fail, as Hernandez now has this in the bag barring a KO. Abreu tries, swinging haymakers, but not landing the needed one. Official results: Steve Hernandez by unanimous decision (30-25 x2, 29-27) and new 185-lb Take On champion.
via pbs.twimg.com
Steve Hernandez pre-fight
via pbs.twimg.com
And Steve Hernandez post-fight!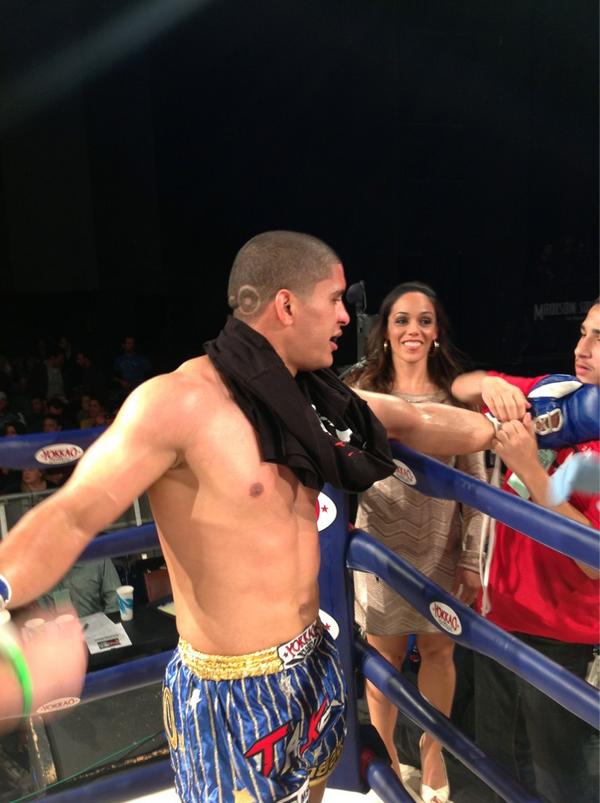 A disappointed Ariel Abreu post-fight.
160 Lbs: Pawel Zawistowski [6-0 6KO] vs. Jovan Davis [6-3]) - Ringside photographer Bauzen of MiddleEasy walked by my spot and goes "this fight isn't long. Pawel's got this." Pawel starts off doing his best to prove him right by firing powerful, thudding body shots. Davis shoves Pawel down (I am NOT typing that last name repeatedly), but Pawel gets up and with :26 left in the round, he nearly headkicks Davis into next week. Davis' mouthpiece is out and the ref gives him a standing 8-count while they wash off his mouthpiece. Davis is game and lands some shots while Pawel is flurrying on him.
Big hook from Pawel early and a thudding lead kick on the thigh. Pawel's landed that leg kick a few times and Davis is starting to limp a bit, but that hasn't prevented him from landing a solid 1-2 and a couple of body kicks of his own. Still, Pawel is thumping him when he lands. Pawel reminds me a bit of Saul Alvarez, he lands with big power, but his defense is just porous enough to get hit often and make for exciting fights.
Davis with a good leg sweep to send Pawel to his butt. Pawel is tiring a bit, and his mouth is open. Davis lands a good one, but Pawel attacks that lead leg of Davis and has Davis limping badly. The ref gives Davis another standing 8, but he's able to finish the round despite wincing badly every time Pawel hits that leg. Official decision: Pawel Zawistowski 30-25 on all cards.
147 Lbs: Jeff Hobbs [3-0] vs. Manny Casais [4-1] - Casais catches Hobbs off balance and gets an early knockdown off a sweeping low-kick - and he repeats it again about 20 seconds later. Hobbs lands with a body kick but nearly loses his balance again on a powerful lowkick from Casais. Casais with a solid body kick off the rear leg and Hobbs fires a spinning backfist that just grazes. Casais' round though.
AC-DC Thunderstruck is such appropriate music for fights. Casais starts early with a nice combo of punches and kicks, landing most. They exchange for a bit before Casais sweeps the leg again. Casais rushes in and lands a number of shots on a frustrated Hobbs. Hobbs' corner is hollering at him to get more active. He obliges with some forward pressure, scoring well, but Casais gets that solid leg kick which sends Hobbs to the mat again.
Hobbs heeds his corner's advice for the third and comes out swinging, landing some good punches. Casais is unfazed and fires back. Nice knee from Hobbs in the clinch, but Casais digs under and reverses the clinch, pressuring him against the ropes. Casais is definitely exerting himself here and looks to be tiring, but there's only ten seconds left and h's firing on adrenaline. Much closer round than the first two. Official results: Manny Casais wins by unanimous 30-27 decision.
105 Lbs: Jess Ng [7-1] vs. Melanie Odria [4-2] - Ng starts with a nice hook that lands as Odria comes in. Ng is the more experienced fighter and her timing shows. She's countered Odria a couple times early, although Odria has eaten the shots with aplomb. Ng misses a couple of headkicks, including one that maybe took off a hair or two off Odria's head. Ng lands a nice body kick while Odria lands a wild left.
Wild start to the second as they clinch and each lands hard knees. Ng lands a 1-2 to counter a lowkick from Odria. Odria shoves Ng to the ground off of a caught body kick. Good bosy shots from Ng and a solid couple of power shots from Odria finish out a closer round.

Odria is slowing a little, and Ng keeps landing the 2 in her 1-2 and solid body kicks. She's landed well throughout the fight and continues with more body kicks and ends the final two-minute round with good shots. I'd guess 30-27 to Ng. Official Results: Jess Ng wins by Unanimous 30-27 decision.
via pbs.twimg.com
The victorious Jess Ng getting her gloves removed.
140 Lbs: Chantal Perry [2-2] vs. Irina Khouade [2-0] - Chantal is fighting out of Renzo Gracie's academy here in NYC, sadly the MMA legend is not cornering Ms. Perry. Khouade takes center ring and is pushing forward, but Perry is landing decent kicks. They hang out in each other's Thai clinch for a while, exchanging knees. Perry is landing the harder ones. They break and the lankier Khouade lands a nice jab. They clinch again and knee each other for a bit. They break at the ten second clap from the man at ringside and exchange jabs as Rd 1 ends.
Khouade starts out well in the 2nd, landing straight punches and backing Perry into the corner. Khouade landing a 1-2 with regularity now. She's not sitting down on her shots, but they're landing accurately. Khouade definitely won this round, so I'd say it's even now.
Khouade has been pressing forward the whole fight and continues to do so to open the final round. She's done a fairly good job of using her length to land teeps, jabs and a solid 1-2. Perry's done alright when she gets inside, but it hasn't been with great frequency. They clinch up again with about 20 seconds left and exchange knees as the fight ends. I'd score this 29-28 Khouade. Official results: Irina Khouade takes the unanimous 30-27 decision on all scorecards.
Pre fight interview with Nick Vaughan here: http://youtu.be/7IStOdcqMdM
The Theater here at MSG is filling up, the stage is set and the DJ is playing terrible pop songs to make the crowd feel better. Refresh here often for all the goods. Results will be posted next to each fight in the card order just up above.
The fight order has been updated and the fights are about to get started. The fighters are being introduced PRIDE style up on the walk-out stage.