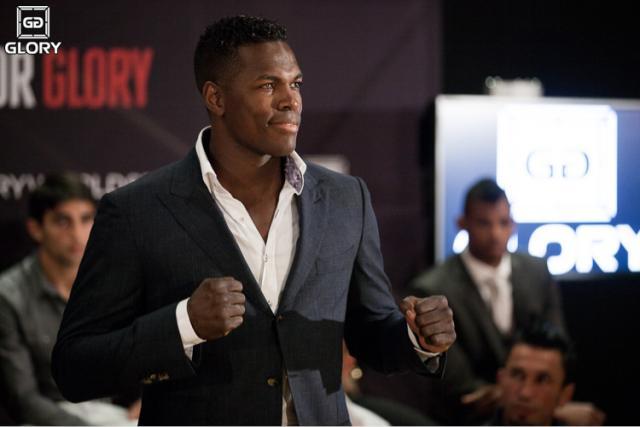 Coming into his fight today at GLORY 2 Brussels, there were a lot of question marks surrounding Remy Bonjasky. He'd been out of fighting for almost three years due to an eye injury that was originally thought to be career-ending and also raised questions about what type of risk he was taking coming back. Then there were the pre-fight reports that he had even more injuries coming in, admittedly so by himself. Today was the day where we really got to see what the Remy Bonjasky of 2012 has left in the tank.
Bonjasky proved that he still has the heart and determination to get through a competent opponent that would not back down or let up in Anderson "Braddock" Silva. Notoriously a slow starter, Bonjasky came out harder than usual but for the first two rounds Silva matched him and gave as good as he got, and to many, Silva gave even more than Bonjasky in those two rounds. The third, however, was all Bonjasky as he momentarily hurt Silva with a kick to the liver and poured it on throughout the final round. Whether it was enough to get an extra round or not is up for debate but Bonjasky came through when it mattered most, in the extra round, where he was able to edge out Silva and get a decision of 4-1 to win his comeback.
We certainly learned a lot about Bonjasky in this fight. I honestly don't think he lost that much of a step. Some rust, yes, and understandably so, but he really didn't look that much different from the Remy Bonjasky of three years ago. A lot of his work lacked some refinement and crispness, maybe even power but what else would you expect from a guy who hadn't fought in almost three years? He was met with a strong, resilient, competent opponent and was able to push himself to the limit to get a victory.
The cardio is obviously a concern, though one of the reasons I say he hasn't lost that much of a step is because Remy never really had great cardio in the years leading up to his retirement. It's one of the things that should sort itself out once he gets more into the swing of things, although nothing in guaranteed of course.
One of the main reasons why I emphasize that I don't think he's lost much of a step is because I think the heavyweight division is just better now than it was three years ago. Struggling with Silva isn't a bad thing. Badr Hari struggled immensely with Silva. In terms of going against the likes of Semmy Schilt or Gokhan Saki for example, it obviously notifies us that he's going to have be a lot better for him to come close to beating them.
At the end of the day, we'll just have to see if he's shaken off the rust by the time the Grand Slam rolls around. Right now the odds are stacked against him, but it really is great to have Remy Bonjasky back.