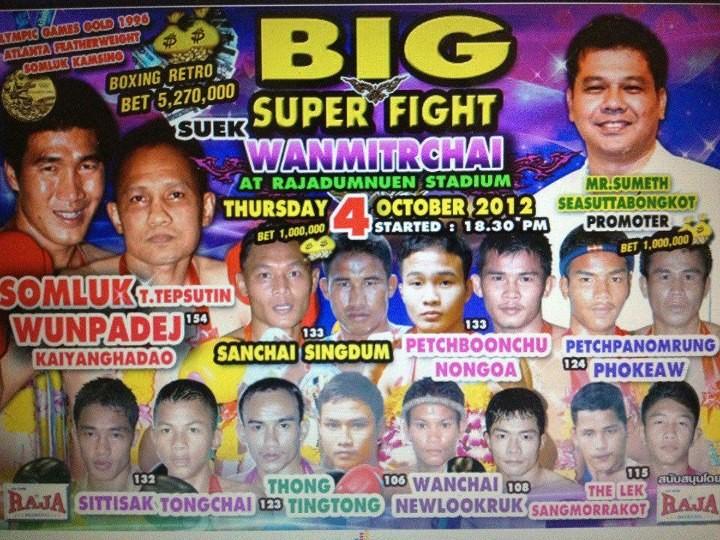 A huge rematch is going down at Rajadamnern Stadium on Thursday in Bangkok, Thailand, as well as a stacked card and somewhat of a special attraction.
After their fight under a month ago on September 7, Singdam Kiatmoo9 and Saenchai are rematching. Singdam surprised many by winning last month and what was even more impressive is that he beat Saenchai at range. The difference this time is that they'll get to weigh in at the same weight at weigh ins at 133, whereas last month, Singdam had a three pound weight advantage at weigh-ins.
Although Saenchai vs. Singdam is a huge fight, the fight garnering the most attention is between the return of the now 39-year-old Muay Thai legend and former Olympic boxing gold medalist Somluck Khamsing and 51-year-old Yodwanpadet Suwanwichit. The fight has the largest ever side bet on a fight, with 5.27 million baht on the line. You might remember Somluck losing a huge bet earlier this year when his fighter that he was betting on, Jaisoo Thor. Thepsutin got destroyed in the first round by Yodkhunpol Sitmonchai. In the mean time, Somluck also called out Buakaw and Kem Sitsongpeenong leading up to this fight.
Also on the card is the seventh fight between Petboonchu F.A. Group and Nong-O Gaiyanghadaogym, with Nong-O being 5-1 against Petboonchu, stopping him three times in the process. There last fight was fairly close and Petboonchu has been in good form lately, so this one should be interesting to see if Nong-O just had Petboonchu's number or not.
The phenomenal youngster Petpanomrung Wor. Sungprapai tries to avenge a loss to Pokaew Fonjaengchonburi at 124lbs while a man who's fought both of them, Thong Puid9d, faces Tingtong Chor Koyuha-Isuzu in the third fight between them which should be all action. Another battle that should be all action is Sitisak Phetphayathai vs. Thongchai Sitthongsak at 132lbs.
Somluck Thor. Thepsutin vs. Yodwanpadet Gaiyanghadaogym
Saenchai PKSaenchaiMuayThaiGym vs. Singdam Kiatmoo9
Petboonchu F.A. Group vs. Nong-O Gaiyanghadaogym
Petpanomrung Wor. Sungprapai vs. Pokaew Fonjaengchonburi
Thong Puid9d vs. Tingtong Chor. Koyuha-Isuzu
Sitisak Phetphayathai vs. Thongchai Sitthongsak
The-Lek Wor. Sungprapai vs. Saengmorakot Tor. Manothammaraksa
Wanchai Rambo-Esarn vs. Newlookruk Exidicalgym
Petmuangchon Aikbangsai vs. Withayalek Jaroenthammarat