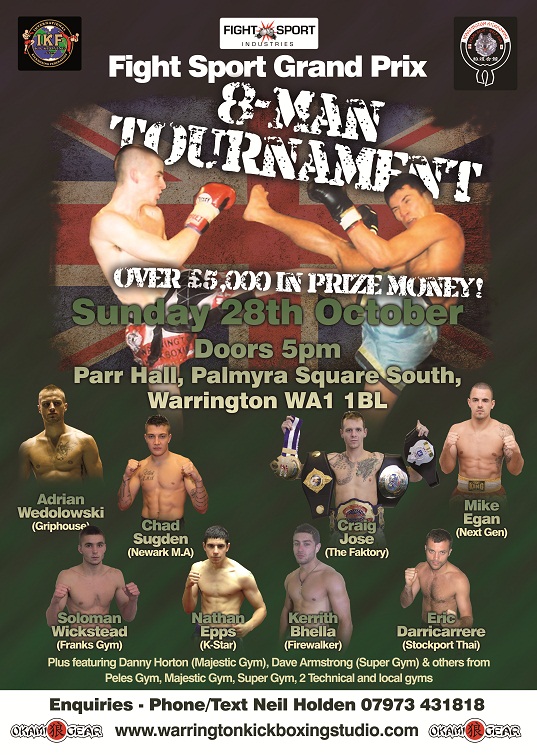 Fight Sport Grand Prix Series is a new kickboxing organization in the UK, holding one night, eight man tournaments to establish more UK fighters internationally. The UK has always had some great fighters, but many of them haven't gotten opportunities on the big stages of kickboxing and this new Fight Sport Grand Prix Series looks like it will give them just that. Click "Read More" to see the full press release from Fight Sport Grand Prix Series that includes full details of the first tournament, the event schedule, the format and how it will establish UK fighters on the international kickboxing stage.
Fight Sport Grand Prix Series - "The Road to Stardom"


The Fight Sport Grand Prix Series kicks off Sunday 28th October!

The Fight Sport Grand Prix Series is a new professional fighting tournament series, under world wide recognized rules, where every 8 man tournament will feature over £6,000.00 pounds in prize money! ( which includes a best K.O. Of the night bonus of £1,000.00 )

Yes over £6,000.00 for every tournament!

Focusing on the fighters and providing great entertainment for the audience, not only is there great prize money in the 8 man tournament but every event will feature a £1,000.00 pound KO bonus for the best KO in the tournament!
(reserve fights are included)

The series will compose initially of four 8-man 70 kilo tournament events at the Parr Hall in Warrington, provisional schedule for these events is:

Sunday 28th October 2012
Feb 2013
April 2013
June 2013

Confirmed dates for the other events will be announced early November.

The winner of each 8 man tournament will go through to a tournament on a larger televised arena event (to be held at a very famous UK arena) with bigger prize money available and the winner will receive an international management contract with a guarantee of fights abroad on several top international events.

The tournament fights will take place under world wide recognized rules, as also used on other International promotions such as K-1, GLORY & Super Kombat, to give UK fighters greater experience under this format ,setting them up for success when they start to fight internationally.

Fighters who enter one tournament will still be eligible to enter another providing of course they are not a previous winner!
This could see a truly great story unfold across the series and gives a fantastic bed for UK talent to develop to then fight on the international stage.


Fighters who compete in a reserve fight (providing of course they conduct themselves accordingly), will be guaranteed to compete in a future tournament in the series. Reserve matches are a great entry route for aspiring fighters into the fight Sport Grand Prix Series!

If there are two reserve fights on an event then the winner of reserve fight 1 would replace a fighter injured in the first tournament bracket (QF fights 1+2). Winner of reserve fight 2 would replace a fighter injured from the second tournament bracket . All reserve fights are eligible for the £1,000.00 pound KO of the night bonus so action all the way is guaranteed!


To add even further excitement the draw method will take place as follows:
Balls numbered 1-8 will be placed in a bag and drawn by the fighters. Whoever gets ball number 1 picks which spot they want in the tournament first.
Ball number 2 is of course where it gets really interesting, will fighter B, choose to fight fighter A (who picked ball number 1) or avoid him and go in a different spot!

Will tactical choices be made? Will a fighter ignore what might be perceived as the obvious choice and go all out for revenge against another guy who beat him previously? - several of the fighters in each tournament are bound to have met before!

If that's not enough to wet your appetite, several of the events will also feature world class international super fights!

Fight Sport Grand Prix Series - see www.fightsportgrandprix.com for further details (web site launch Oct 2012)
The lineup for the first tournament on Sunday 28th October still stands as follows - a truly exciting mix of seasoned experience and young talent:
Kerrith Bhella (Firewalker)
Eric Darricarrere (Stockport Thai)
Chad Sugden (Newark Martial Arts)
Craig Jose (The Faktory)
Soloman Wickstead (Franks Gym)
Mike Egan (Next Gen)
Nathan Epps (K-Star)
Adrian Wedolowski (Caledonian)
There also some exciting fighters in the mix for the reserve fights which will be announced shortly.
The undercard features local talent from established gyms such as Majestic Gym, Super Gym, Peles Gym, Stockport Thai and others - full undercard will be announced soon
Ringside tables of 10 for this first event are at the special introductory price of 800 and include meal/waitress service. Standard tickets are 30 each.
For further information & tickets call/text 07973 431818
We truly feel this is the right time for this format and exciting times are ahead!