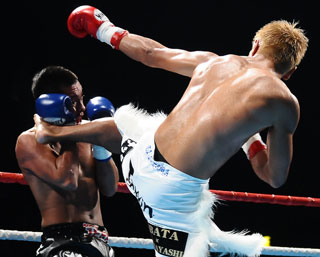 The Taniyama Gym held its 10th installment of the Big Bang series at Differ Ariake in Tokyo earlier today, featuring top names like Yasuhiro Kido, Hirotaka Urabe, Shunta Ito and Hiromi Amada.
In the night's main event, Yasuhiro Kido filled his usual headlining role at Big Bang events, this time taking a unanimous decision over Yu Hirono on scores of 30-29(x3). Kido debuted a "new technique" that he dubbed Rokakato, which is essentially a heel to the side of the thigh. Kido (29-13-1, 14 KO) has now won 5 in a row and will likely sit out until the MAX finals on December 8th in Athens. While I don't expect him to win or even make it to the finals, this is a much improved Kido from the one who struggled towards the old K-1's end and could make waves in the tournament if he has good matchups. Hirono (16-7-1, 4 KO) had won 5 in a row heading into this bout, most recently against ShokieJungle at Krush-EX vol.4 in July.
In the co-main event at 58kg, former MA Kick champion Shunta Ito bounced back from a loss at Big Bang 9 with a unanimous decision win over Atsushi Tateshima on scores of 50-45(x3). Ito recently vacated his MA Kick title and lost a unanimous decision to Kaimookaw Watcharachai at Big Bang 9, snapping a 3-fight win streak.
Krush 60kg champ Hirotaka Urabe also participated at the event, stopping J-Network Super Featherweight champ Takaaki Kimura with a high kick at 2:17 of the first round. Urabe (17-6-2, 9 KO) has been on a roll, going unbeaten in his last 9 and scoring 5 knockouts, with the sole blemish being a draw in a title defense against Naoki Ishikawa. Urabe could possibly find himself fighting Ishikawa for a third time, but it depends on the outcome of the three matchups that were recently announced for Krush.23 and could potentially put Urabe in rematches with Ishikawa, Yuji Takeuchi and Fumiya Osawa. Kimura (22-19-1, 3 KO) isn't that bad, holding wins over Yosuke Mizuochi, Takashi Nakajima and Ryo Pegasus, but isn't quite on the level of guys like Urabe, as he has been blown out of the water by Urabe and MA Kick champ Hikaru Machida in recent outings.
In a rematch between K-1 veterans, Hiromi Amada scored a 2nd round knockout of Alex Roberts at 1:07. The two first fought at NJKF Titans Neo X almost exactly a year ago, with the fight ending in a draw. Amada (34-20-3, 17 KO) snapped 2-fight losing streak, with losses to Singh Jaideep and Fabiano "Cyclone" Aoki, with a 2 fight win streak, most recently defeating Soichi Nishida at Big Bang 9. Amada was recently announced as a participant on the October 14th K-1 card which features the FINAL 16 portion of their heavyweight tournament, though Amada will probably not be fighting for a spot in the finals. Roberts (10-4-2, 8 KO) most recently lost to Tomasz Sarara at the Hoost Cup and is now winless in his last 4.
In other bouts, RISE #1 ranked Middleweight Yukihiro Komiya improved to 2-0 at 65kg with a unanimous decision win, RISE #3 ranked Heavyweight Raoumaru scored a 2nd round knockout and RISE #1 ranked Bantamweight Dyki picked up a majority decision win.
Quick results after the break
70kg Fight: Yasuhiro Kido def. Yu Hirono by 3rd round Unanimous Decision (30-29, 30-29, 30-29)
58kg Fight: Shunta Ito def. Atsushi Tateshima by 5th round Unanimous Decision (50-45, 50-45, 50-45)
Heavyweight Fight: Hiromi Amada def. Alex Roberts by 2nd round KO (punches) at 1:07
60.5kg Fight: Hirotaka Urabe def. Takaaki Kimura by 1st round KO (right head kick) at 2:17
65kg Fight: Yukihiro Komiya def. KI-MO by 3rd round Unanimous Decision (29-28, 29-27, 30-27)
Heavyweight Fight: Raoumaru def. Takeshige Hayashi by 2nd round TKO at 1:00
55kg Fight: Dyki def. Ariaki Okada by 3rd round Majority Decision (29-28, 29-28, 28-28)
68kg Fight: Kazuki Yamagiwa def. Yutaka Hasegawa by 2nd round KO at 1:21
65kg Fight: Manabu Waida def. Ken Ohno by 3rd round Majority Decision (29-29, 29-28, 30-29)
60kg Fight: Shota def. Susume Sekine by 3rd round Unanimous Decision (30-28, 30-28, 30-29)
Heavyweight Fight: -NORI- def. Soichi Nishida by 2nd round KO at 1:20