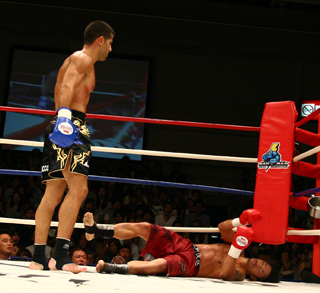 Yesterday, Krush held Krush.21 at Korakuen Hall in Tokyo, headlined by a Krush 63kg title fight and an ISKA 55kg World title fight, with both featuring European challengers, as well as the last 2 fights of the 4th leg of the 63kg WILDRUSH League.
In the main event, Krush 63kg champ Ryuji Kajiwara was knocked out by former ISKA 62.5kg champ Thomas Adamandopoulos by headkick at 1:42 in the 2nd round. Adamandopoulos dominated the fight leading up to the stoppage and scored with a left high kick that knocked Kajiwara out cold. Adamandopoulos (41-8-1, 24 KO) is now 2-0 in Krush and the first foreign Krush champion. This was a big win for him as he had lost 2 in a row, a close split decision to Karim Bennoui and a 4th round TKO to Yetkin Ozkul, and is set to fight in Krush again in the future, presumably facing the winner of the Krush WILDRUSH League, or even someone like Masaaki Noiri or Tetsuya Yamato should the winner of the WILDRUSH League be injured. Kajiwara (22-11-1, 6 KO) finally had his age catch up to him a bit after going 7-1 in his last 8, mostly against much younger competition. A good next fight for him would be a rematch with Noiri to set up a title challenger after the WILDRUSH League winner gets his shot.
In the co-main event, Nobuchika Terado defended his ISKA World Bantamweight title against former ISKA World titleholder Andy Howson in an exciting fight with a 2nd round TKO at 2:07. Howson had Terado in a lot of trouble in the 2nd round, dropping the champion twice, but as Howson tried to find the finish, Terato managed to land a big left hook that dropped Howson before dropping two more times with a pair of right hooks to end the fight. Terado (29-8-1, 13 KO) is no stranger to slugfests, putting on one of the best fights that nobody saw back in 2010 against Ryuya Kusakabe, another fight where both men were hurt and suffered a knockdown. This is the first defense of his ISKA title that he won at Krush.11 over Kirean McAskill and moves him 4-1 in his last 5, most recently beating Namito Izawa at Krush-EX 2012 vol.1. A good next fight for him would be a rematch with Kusakabe to set up a third fight for either man with current champ Shota Takiya. Howson (53-10-1, 29 KO) recently lost his ISKA Bantamweight Muay Thai title to Dean James in May and lost a chance to win Terado's Oriental Rules title here. The two were initially supposed to meet at Krush.5 in January of 2010, but Howson was forced out of the bout with an injury.
In a WILDRUSH League 4th leg bout, 2nd placed Hitoshi Tsukagoshi kept his hopes of winning the league alive with a majority decision over 3rd placed Yukimitsu Takahashi on scores of 30-28, 30-29 and 29-29, ending Takahashi's chances of winning. Tsukagoshi now has 7 points and is 2 points shy of league leader Hideaki Yamazaki heading into the final leg. Tsukagoshi's final fight is against the hard-hitting TaCa while he will need some help from Takahashi, who faces Yamazaki in the final leg. Tsukagoshi will need Takahashi to win against Yamazaki, as a draw would mean Tsukagoshi would need a knockout just to tie and I believe that since Yamazaki beat Tsukagoshi, he would hold the tiebreak. Takahashi remains with 4 points despite putting on some of the most entertaining performances throughout his fights in the league. He still has something to prove against Yamazaki in the final and although he can't win the league, expect him to put on a good performance and solidify himself as an entertaining draw in Krush.
In the final 4th leg WILDRUSH League bout, 4th placed TaCa was upset by last placed NOMAN, who won a majority decision on scores of 30-28, 30-29 and 29-29. This is a bit of an upset as NOMAN was winless in the league before this while TaCa had knocked out Naoki Terasaki, while dropping decisions to Yukimitsu Takahashi and Hideaki Yamazaki. TaCa remains with 3 points while NOMAN has 3 points as well and moves up to 4th with TaCa.
The current WILDRUSH League standings after 4 legs is
1. Hideaki Yamazaki, 9 points (4-0-0, 1 KO)
2. Hitoshi Tsukagoshi, 7 points (3-1-0, 1 KO)
3. Yukimitsu Takahashi, 4 points (1-1-2, 0 KO)
4. NOMAN, 3 points (1-2-1, 0 KO)
5. TaCa, 3 points (1-3-0, 1 KO)
6. Naoki Terasaki, 1 point, (0-3-1, 0 KO)
The WILDRUSH League concludes on October 8th at Krush.23, an event which is set to feature Yasuhiro Kido, Naoki Ishikawa, "Kyoken" Yuji Takeuchi and Kan Itabashi.
Quick results after the break
Krush 63kg Title Fight: Thomas Adamandopoulos def. Ryuji Kajiwara (c) by 2nd round KO (left high kick) at 1:42
ISKA 55kg World Title Fight: Nobuchika Terado (c) def. Andy Howson by 2nd round TKO (3 knockdowns) at 2:07
63kg WILDRUSH League Fight: Hitoshi Tsukagoshi def. Yukimitsu Takahashi by 3rd round Majority Decision (30-28, 30-29, 29-29)
63kg WILDRUSH League Fight: NOMAN def. TaCa by 3rd round Majority Decision (30-28, 30-29, 29-29)
52kg Fight: Akari def. Emi NFC by 2nd round KO (right cross) at 1:06
70kg Fight: Yoichi Yamazaki def. Yoji Fujimoto by 3rd round Unanimous Decision (29-28, 29-28, 30-27)
55kg Fight: Kentaro Kimura def. Yuya Suzuki by ext. round Unanimous Decision (10-9, 10-9, 10-9) after a 3rd round Majority Draw (30-29, 29-29, 29-29)
60kg Fight: Sho Senchaigym def. Takeshi Watanabe by 3rd round Unanimous Decision (30-28, 30-27, 30-26)
63kg Fight: Keisuke Kurihara def. Utsunomiya Yuzuru by 3rd round Majority Decision (29-28, 29-28, 28-28)
60kg Fight: Tomohiro Kitai def. Warrior by 3rd round Unanimous Decision (28-26, 28-27, 28-27)
60kg Fight: Leona Pettas def. Ryutaro Takahashi by 1st round KO (right cross) at 1:40
55kg Fight: Yo-hei def. Ryoji Imai by 2nd round KO (right cross) at 2:38
60kg Fight: Seiya def. Daisuke Kuwana by 2nd round KO (right cross) at 2:05