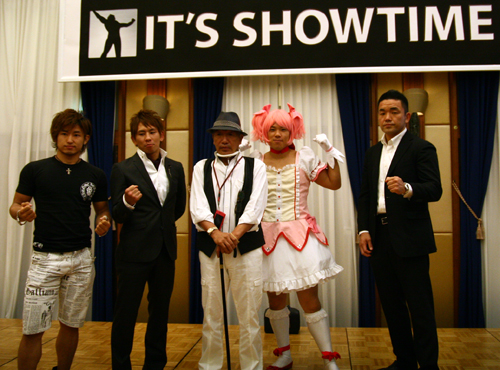 After holding a series of co-promoted It's Showtime Japan Countdown cards over the past year, It's Showtime is holding its first official card in Japan on September 17th at Yokohama National Convention Hall, featuring Daniel Ghita, 85kg champ Sahak Parparyan, It's Showtime Fast and Furious Tournament champ Robin van Roosmalen, Andy Ristie and Yuichiro "Jienotsu" Nagashima, among others. This has been anticipated for about a year, as It's Showtime had its first co-promotion in Japan with REBELS last July, sending 70kg kingpin Giorgio Petrosyan to take on Hinata. Since, there have been about 7 or 8 more co-promoted cards, but they haven't featured any other European-based It's Showtime fighters.
So far, there is only one fight set for the card, It's Showtime Japan 95kg champion Toshio Matsumoto taking on It's Showtime 85kg champion Sahak Parparyan. Matsumoto (36-9-6, 29 KO) is currently riding a 7 fight win streak, most recently defeating Koichi Pettas for the It's Showtime Japan 95kg title back in February, which I initially though would set him up for a showdown with 95kg champ Danyo Ilunga. However, the 37 year old Matsumoto gets just as unfavorable a matchup against the 23 year old Parparyan (45-7-4, 19 KO). Parparyan is currently riding a 6 fight win streak, including his biggest win to date over Mourad Bouzidi and most recently defending his 85kg title against Andrew Tate at It's Showtime 56 in May. There was no indication of what weight the fight is taking place at.
In a bout that I believe will be for the vacant It's Showtime 65kg title, K-1 veteran Chi Bin Lim will face a yet to be named opponent. Lim earned a shot at then champion Orono Wor Petchpun at the first It's Showtime Japan Countdown card with a win over Mosab Amrani, but with Orono making a transition to MMA, the title is now vacant. It would be nice if they could bring in someone like Yuta Kubo, but I think T-98 or a European fighter will likely be who they go after.
Also set to participate on the card are Daniel Ghita, Robin van Roosmalen, Andy Ristie, Yuichiro "Jienotsu" Nagashima, Masahiro Yamamoto, Kizaemon Saiga and Hiroki Nakajima. If Nagashima and Nakajima are matched up with Roosmalen and Ristie, it probably won't go very well for the Japanese fighters as Roosmalen and Ristie are very gifted offensively while Nagashima and It's Showtime Japan 70kg champ Nakajima have, by far, the worst defense of the top 70kg fighters in Japan. I also expect Masahiro Yamamoto and Kizaemon Saiga to face off in a fight that could determine It's Showtime 61kg champ Javier Hernandez's next opponent. Yamamoto won two fights that were marketed as more or less title eliminators against Arita Tsukahara and Genki Yamamoto, but has yet to reap any benefits from them while Saiga won a fight over Arita Tsukahara a few months back that was marketed as a 61kg playoff for It's Showtime and both fighters are good enough that it's not out of the realm of possibility that they could challenge Hernandez, as Yamamoto challenged for the It's Showtime title once in the past.