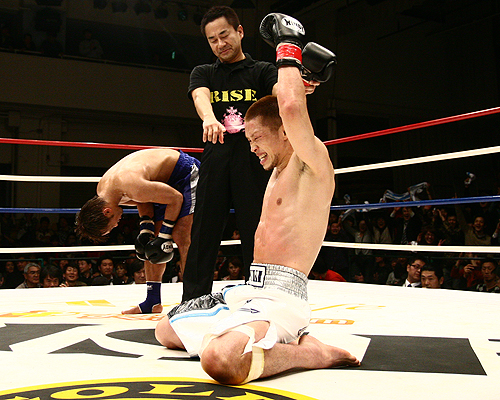 RISE 87 took place at Korakuen Hall in Tokyo yesterday in an event that featured many of the promotion's top fighters, and seems to have delivered in entertainment value. The card featured 63kg champ Yuki's first title defense against Yuto Watanabe, as well as 55kg champ KENJI in a superfight against Shooto 52kg champ Mikhito Yamagami and 3 RISE vs China fights featuring 60kg champ Kosuke Komiyama, Erika Kamimura and Heavyweight champ Makoto Uehara.
In the night's main event, defending Lightweight champion Yuki scored two downs in the 5th round to storm past challenger Yuto Watanabe and win a close majority decision on scores of 45-45 and 46-45(x2). As he has been known to do, Yuki (31-13-1, 23 KO) started slow and was dropped in the 1st roud by Watanabe (11-6-0, 3 KO), who dominated the first half of the fight and earned himself a sizable lead on the scorecards. However, Yuki began to turn the tide in the 3rd and came storming back, punishing Watanabe in the 4th round before getting two standing 8 counts in the 5th that ultimately sealed the win for the champ and gave him his first title defense. This was Yuki's first fight since last June's K-1 -63kg Japan Tournament where he lost in the first round to Koya Urabe, but not before putting a beating on his lead leg which ultimately cost him the tourney. After the fight, I believe Yuki stated that he tore a ligament in his left foot, so there may be a bit of a layoff before his next fight which is unfortunate as Yuki is one of the sport's most entertaining fighters. This is a tough loss for Watanabe, who earned a huge lead early only to squander it. This fight was his chance to fight his way out of mediocrity in the 63kg division after two straight wins, most recently against Shohei Asahara to earn the title shot and although he lost, this fight may boost his stock a bit.
In the co-main event, promotional Bantamweight champ KENJI struggled a bit, but bested Shooto Flyweight champ Mikihito Yamagami, earning a unanimous decision on scores of 29-25, 28-25 and 28-26. KENJI (20-4-0, 13 KO) scored a pair of knockdowns in the 2nd round that gave him a substantial lead, but judging from the scores it seems like a rather pedestrian performance from him otherwise. Since losing to Shota Takiya in the semifinals of the Krush 55kg tournament, KENJI has strung together 6 straight wins, most recently trumping Thai Pajonsuk Por Pramuk at RISE 86 in January. If KENJI wants to take a step up in the division, his 3 targets should be Nobuchika Terado, Ryuya Kusakabe and Shota Takiya as he is 0-2 against Takiya and 0-1 against Terado. Kusakabe has a fight next weekend, while Terado's next fight is on April 22nd and Takiya's in early May. Unless RISE orders a title defense against Ryuma Tobe, KENJI could be free to chase one of those 3 fighters in the near future. There is no shame in losing for Yamagami (1-2-1 KB; 7-2-0 MMA) who was fresh off of his knockout of Junji Ikoma in November to win the Shooto Flyweight title.
In a rather uneventful promotion, 60kg champ Kosuke Komiyama, Heavyweight champ Makoto Uehara and Erika Kamimura all took on Chinese competition, but the three took little over 2 minutes combined to finish their opponents, with Komiyama scoring a knockout at 1:21, Kamimura at 33 seconds and Uehara at just 22 seconds, all in the first round. While RISE has had as much success as Krush with foreign competition in the past, this attempt to replicate Krush's efforts flopped pretty hard. This was all of these fighters' first fights since the RISE 85 super-card last year and while they were likely set up to be winnable showcase fights anyway, none of them lasted long enough to showcase the fighters.
Nevertheless, let's focus on the fighters. Komiyama (17-2-0, 10 KO) is riding a 6-fight winstreak and his most recent loss was a debatable decision to Keiji Ozaki in K-1. In those 6-fights, Komiyama took the RISE title from Kan Itabashi and most recently looked impressive against Sergio Wielzen in a fight that he won by stoppage due to a cut. Komiyama has been clamoring for a fight with Krush 60kg champ Hirotaka Urabe, but unless that fight is set up for Krush.18, Komiyama will have to wait for a while as Urabe is scheduled to fight the winner of an 8-man tournament in July.
Uehara (12-4-0, 8 KO) surprised a lot of people at RISE 85 by making it to the finals of the RISE HWGP, winning decisions over Stefan Leko and Jan Soukup. The most impressive thing was that Uehara, who had shown deplorable cardio throughout his career, managed to go 7 full rounds that night, winning in an extension round against Jan Soukup in the semifinals. He cut down to 90kg for this fight, which is probably where he should be as he is just under 6 ft and could see himself defending his title in a rematch against Kengo Shimizu, who he defeated in their first encounter by KO.
Kamimura (24-2-0, 13 KO) seemed unstoppable over the last 2 years, winning 13 straight, 9 by KO, and showed no signs of slowing down. Last summer she was set to face Shootboxing champ Ai Takahashi before Takahashi suffered an injury in training and was forced to pull out. Instead, she entered the 2011 Girls S-Cup Preliminary Tournament and stormed through the first two rounds before meeting Seo Hee Ham in the finals, where the two put on an extremely entertaining fight that Kamimura emerged victorious from. At RISE 85, she faced RENA in what was perhaps the most anticipated women's kickboxing bout in recent memory and, despite being upset by MMA fighter Jessica Penne leading up to the bout, RENA won a razor-thin decision and derailed Kamimura. This quick KO puts Kamimura back on the winning track and she should be hungrier than ever, as Mizuki Inoue's upset of Ai Takahashi has left the door open for a kingpin(queenpin?) to emerge. With Shootboxing planning to hold a Girls' S-Cup this August, expect Kamimura, RENA, Takahashi, Inoue and Ham to all be involved and vying for the title of #1.
More results, quick results and pictures after the break
Photos and results thanks to boutreview and gbring
In a 63kg tilt, MA Kick Super Lightweight champ Mohan Dragon edged out J-Network Super Lightweight champ Yusuke Sugawara by majority decision on scores of 28-28, 28-27 and 27-26 in what appears to have been an entertaining scrap. Mohan Dragon scored a down in the first round and was able to fend off Sugawara's charge to earn the decision. Mohan Dragon was coming off of a knockout win in which he defending his MA Kick title and now puts himself in an interesting position as Sugawara was ranked #1 by RISE and WBC Japan at Super Lightweight, so this win could leverage him a shot at RISE champ Koji Yoshimoto or WBC Japan champ Seiji Takahashi.
In a 60kg #1 contender's bout to determine Kosuke Komiyama's next challenger, #2 ranked Motochika Hanada scored a 3rd round KO at 1:42 with a left knee over #4 ranked Yutonaka Egawa. Hanada dropped a decision to Yuto Watanabe at the end of 2010, but went 2-0 in 2011 with wins at Real Deal Gym events, one of which was over Krush Youth Tournament participant Sho Ogawa. Hanada is no pushover, but Komiyama seems to be on another level right now, so I don't like his chances in his title shot.
Finally, the final 2 quarterfinal fights of the RISE Featherweight tournament took place. In one quarterfinal, #1 ranked Ryo Pegasus bested #2 ranked Shootboxing Featherweight Koya Shimada on scores of 29-28(x3). In the other quarterfinal, #2 ranked Masato Sato was upset by a relatively unknown fighter whose Romanized name is Ittao, though it may also be an alias that translates to sword or knife, I believe. Either way, Ittao won by stoppage due to a cut at 1:34 into the 3rd round. Ryo Pegasus and Ittao join Masayuki Isabashi and Yuta Sashikubi in the semifinals of the RISE Featherweight tournament.
Quick Results:
63kg Title Fight: Yuki (c) def. Yuto Watanabe by 5th round Majority Decision (46-45, 45-45, 46-45) to retain the RISE Lightweight Title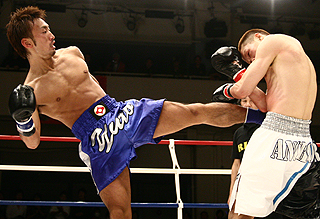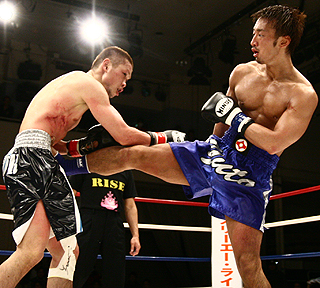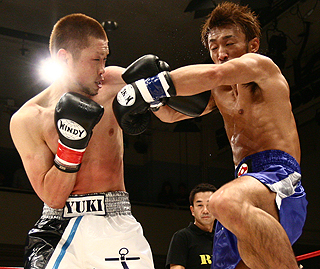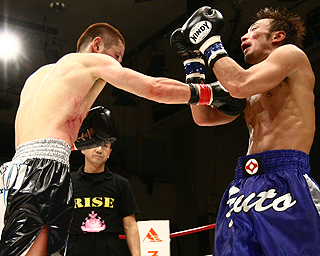 55kg Fight: KENJI def. Mikihito Yamagami by 3rd round Unanimous Decision (28-26, 28-25, 29-25)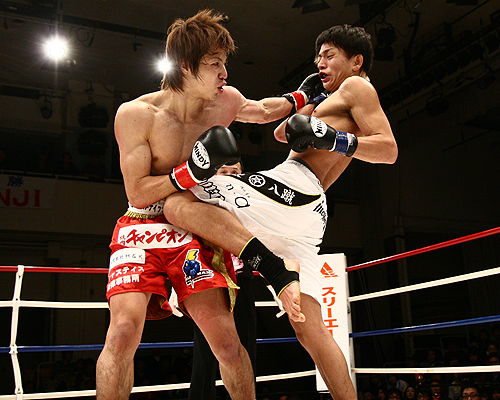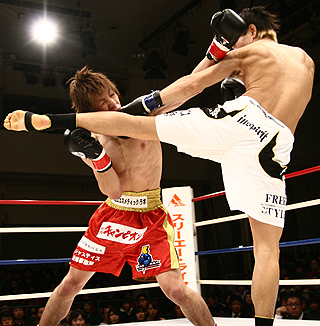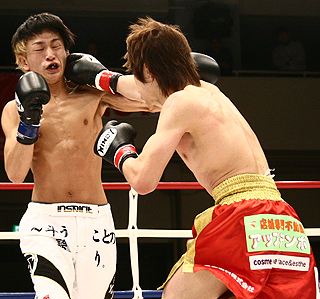 90kg Fight: Makoto Uehara def. Won Jingan by 1st round KO (right low kick) at 0:22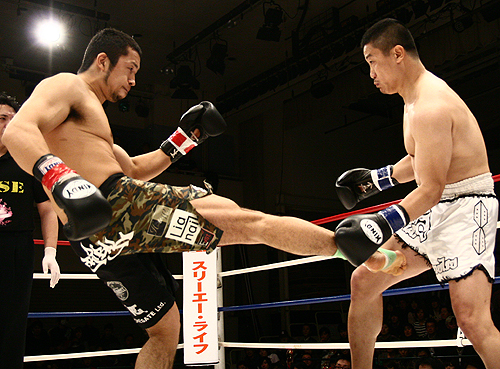 61kg Fight: Kosuke Komiyama def. Mu Yeuron by 1st round KO (spinning back kick to liver) at 1:12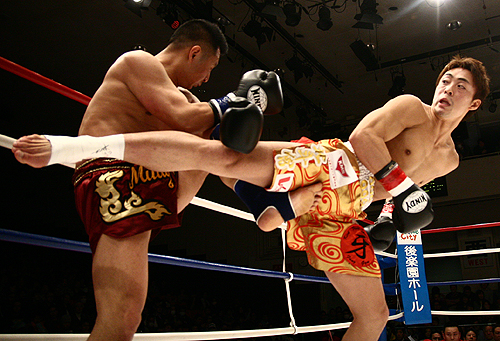 48kg Fight: Erika Kamimura def. Yau~en Fan by 1st round KO (left hook) at 0:33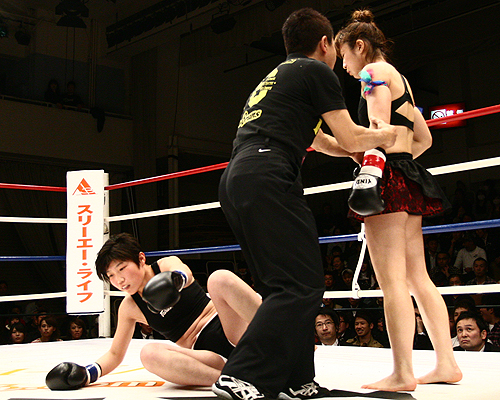 63kg Fight: Mohan Dragon def. Yusuke Sugawara by 3rd round Majority Decision (28-27, 28-28, 27-26)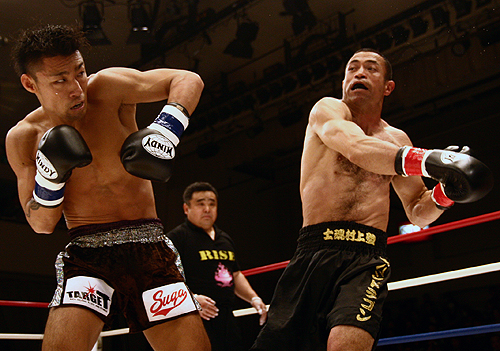 60kg #1 Contender's Fight: Motochika Hanada def. Yutonaka Egawa by 3rd round KO (knee to liver) at 1:42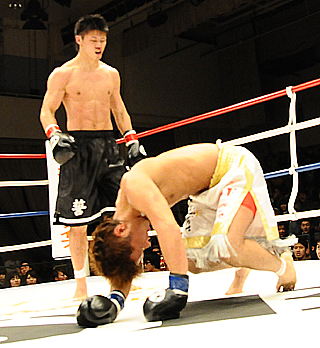 57.5kg Tournament Quarterfinal Fight: Ryo Pegasus def. Koya Shimada by 3rd round Unanimous Decision (29-28, 29-28, 29-28)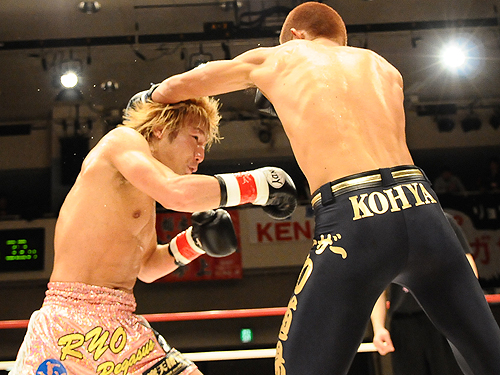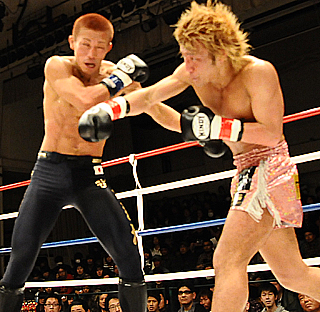 57.5kg Tournament Quarterfinal Fight: Ittao def. Masato Sato by 3rd round TKO (cut) at 1:34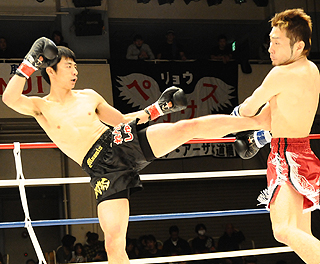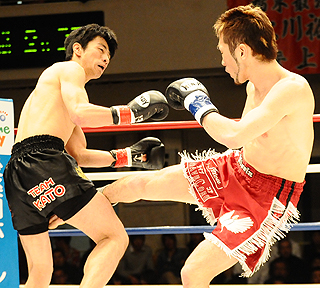 90kg Fight: Kengo Shimizu def. Hidekazu Kimura by 3rd round Unanimous Decision (28-26, 28-26, 28-27)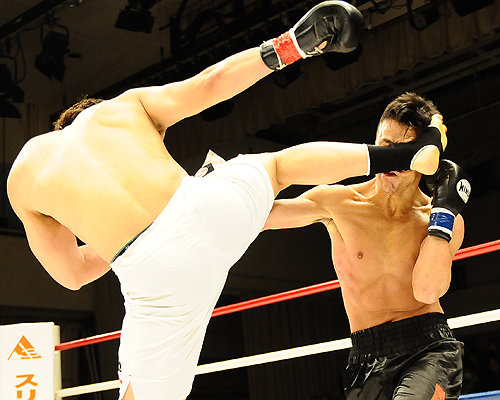 Heavyweight Fight: Raoumaru def. Eduardo Sakamoto by 3rd round TKO (referee stoppage) at 1:29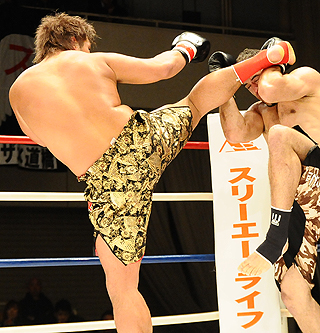 60kg Fight: Taisuke Mae-guchi def. Tomoaki Iemoto by 1st round KO (right cross) at 2:38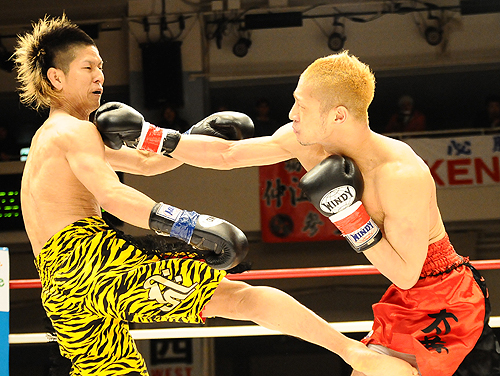 {jcomments on}