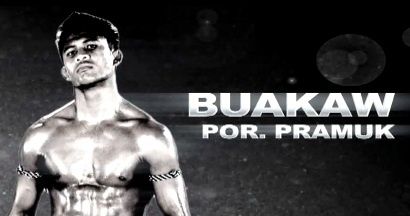 In 2011, Thai Fight got their name out in a big way, using wold renowned Muay Thai fighters like Kem Sitsongpeenong, Buakaw Por. Pramuk, Yodsaenklai Fairtex and many more. They ended 2011 with the finals of two tournaments, one at 67kg and one at 70kg, and generated a lot of buzz.
Thai Fight is coming back on April 7, this time from Pattaya, Thailand at Bali Hai Cape. As usual, they've brought out the Thai stars for this card. Buakaw, yes Buakaw, Kem Sitsongpeenong and Sudsakorn Sor Klinmee all grace the card. What's interesting is that Buakaw is going under the alias of "Buakaw Banchamek Gym," according to k1rules.com who put the fight card out. Banchamek Gym would be the name of the gym that him and Yokkao just built in his home of Surin.
Buakaw's opponent is from France, Mickael Cornubet. I don't know much about him other than that he was KO'd by Mickael Piscitello in 2011 so this shouldn't be a very tough fight for Buakaw.
Saiyok Pumphanmuang will take a fight before his big SLAMM!! fight against Mohammed Khamal. He fights Rustem Zaripov of Russia. Kem Sitsongpeenong, the winner of Thai Fight's 67kg tournament last year, faces Tarek (That's the only name given.). Sudsakorn fights Superbon Lookjaomawaree, who is ranked #3 at Lumpinee Stadium in the 140lb division.
Don't be surprised at all if the card changes and half of these fights end up not going through. This may be the planned card but a lot of things might get in the way.
74kg: Bernueng Topking Boxing (Thailand) vs Youssef Boughanem (Belgium)
70kg: Saiyok Pumpanmuang (Thailand) VS Rustem Zaripov (Russia)

70kg: Khem Sitsongpeenong (Thailand) VS Tarek (Morocco)

67kg: Sudsakorn Sor. Klinmee (Thailand) VS Superbon Lukjaomawaree (Thailand)

70kg: Buakaw Banchamek Gym (Thailand) VS Mickael Cornubet (France)

68kg: Roongroj Phechrungrueang (Thailand) VS TBA