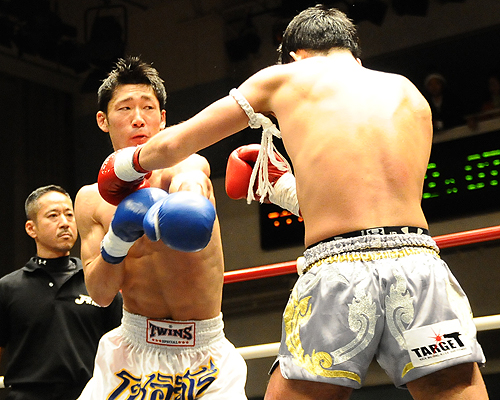 Earlier today, J-Network held Next J-Generation, an event headlined by a 67kg fight between Welterweight champ Masato Otake and WBC Japan Super Welterweight champ Soichiro Miyakoshi and a 70kg bout between Super Welterweight champ Tomoaki Makino and WPMF Japan Super Welterweight champ Takeru Shimizu, as well as the opening round of an 8-man Bantamweight tournament.
Undefeated J-Network Welterweight champion Masato Otake tasted defeat for the first time against WBC Japan Super Welterweight champ Soichiro Miyakoshi. Miyakoshi was able to keep pressure on Otake (9-1-0, 3 KO) throughout the course of the 3 rounds to earn a unanimous decision on scores of 30-27(x3). Miyakoshi had a rough 2011, dropping back to back fights to Yuya Yamato and Takafumi Morita, seemingly solidifying his place as a gatekeeper, but he bounced back with a win over WBC Japan Super Welterweight champ and Krush 70kg tournament finalist Yutaro Yamauchi to net him that title. Adding onto that today puts Miyakoshi back into contention with Japan's top 70kg fighters. A good next step for Otake may be a defending his title in J-Network as it seems Miyakoshi exposed him a bit.
In a 70kg fight, WPMF Japan Super Welterweight champion Takeru Shimizu fell behind early, but scored a knockdown of J-Network Super Welterweight champ Tomoaki Makino in the 3rd round to complete a comeback and earn a majority decision win on scores of 29-28, 29-27 and 28-28. Shimizu was coming into this fight off of a loss in MA Kick to Kazuya Takeda while Makino hadn't fought since an August loss to Buakaw Por. Pramuk in Thai Fight.
This event also marked the opening round of the J-Network Bantamweight tournament for the vacant Bantamweight title. #6 ranked Super Bantamweight Kentaro Kimura scored a TKO due to a cut over #2 ranked Super Flyweight and former boxer Chiharu Manda at 2:14 in the first round. #8 ranked Super Bantamweight Ki-Hoon Kim was able to pull off the upset over #1 ranked Bantamweight Kiyokazu Ohara, taking a unanimous decision on scores of 30-29 and 30-28(x2). #5 ranked Super Flyweight Kenta defeated #4 ranked WPMF Japan Bantamweight Jun Miyoshi by unanimous decision in an extension round on scores of 10-9(x3). And finally, #3 ranked Bantamweight Tatsuya Hibata defeated #7 ranked WPMF Japan Bantamweight Ken Takehara by unanimous decision on scores of 29-28(x3).{jcomments on}