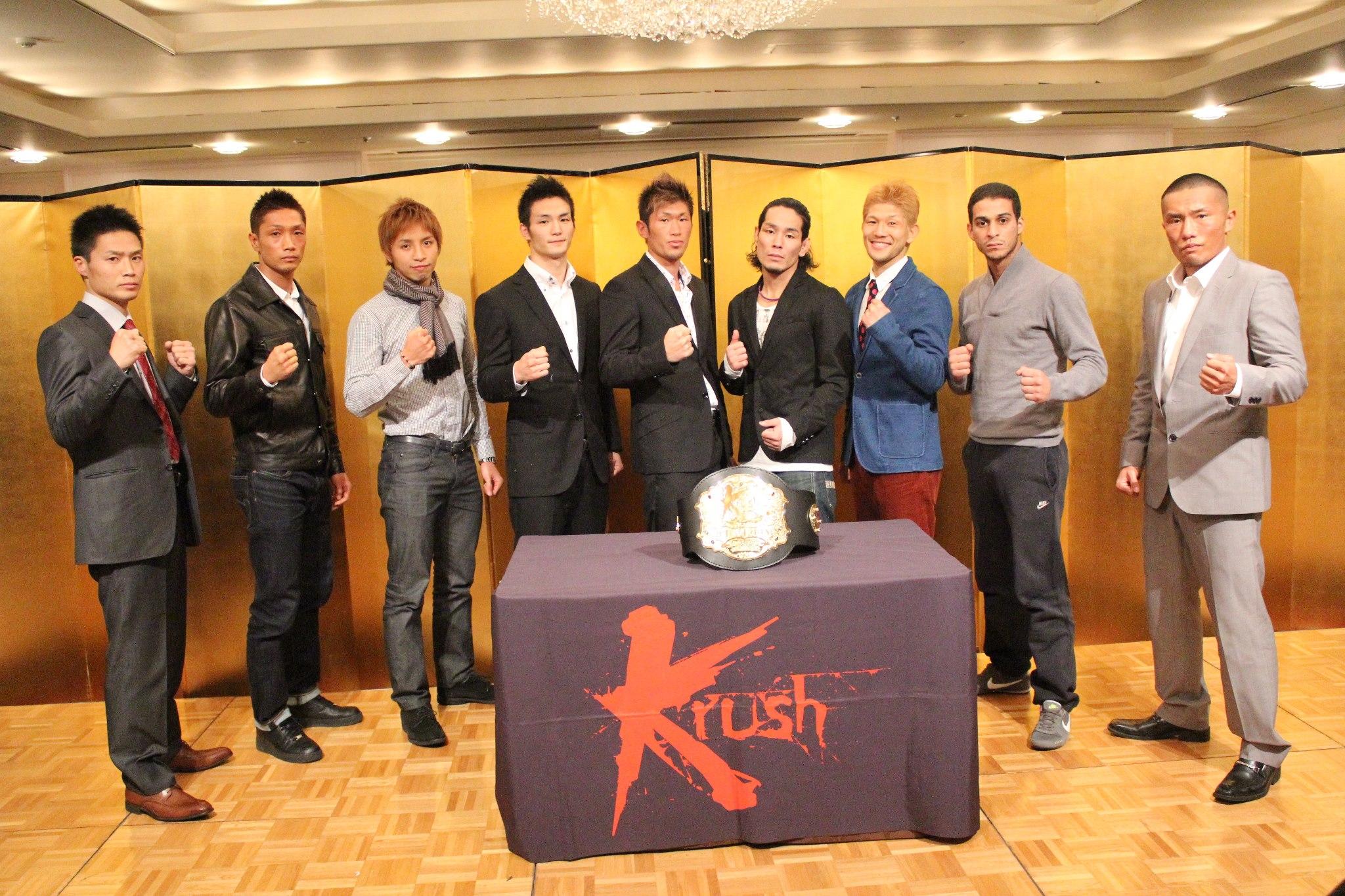 Krush kicks off 2013 with their anticipated 67kg tournament, set to crown a champion in one of Krush's two new weight classes. This post is an attempt at ranking the 8 fighters by their chances of winning the tournament, as I have done with previous one night tournaments.
1. Yuta Kubo - Kubo would have been the tournament favorite if his quarterfinal opponent was still Houcine Bennoui or Roman Mailov. Now, he has the easiest first round matchup against TaCa and a pretty clear path to the finals, as he would fight Shintaro Matsukura or Makihira Keita in the semifinals, neither of which are near Kubo's level. Throw in that he owns a win over one of the upper bracket favorites in Abdallah Ezbiri and he would be the favorite against Yuji Nashiro as well. Add on to this that he is one hell of a tournament fighter, as he made it to the finals of the first K-1 63kg tournament and was winning the fight until a 3rd round knockout, and he won the second 63kg tournament with wins over Kizaemon Saiga, Masaaki Noiri and Koya Urabe, three of Japan's best Lightweights. He even was slotted into the finals of the 2009 AJKF Lightweight tournament as a reserve fighter and was beating tournament favorite Masahiro Yamamoto until a 3rd round knockdown. If there's one downside for Kubo, it is that everyone is expecting him to win this tournament, so there may be a bit of pressure there. He also has shown tendencies to crack a little in the key moments of tournament finals, so it is definitely not out of the realm of possibility that Nashiro could exploit that in the finals.
2. Yuji Nashiro - Despite the toughest quarterfinal matchup, Nashiro will be aided by a drop in weight and fighting someone close to his size. Nashiro has had mixed results in tournaments, being KO'd by Yuichiro Nagashima in the opening round of the 2010 K-1 Japan MAX Tournament, then famously winning 2011 Japan MAX Tournament after an upset win in the quarterfinals over Albert Kraus, a win that shocked everyone watching. Should he get past Ezbiri in the quarters, he could possibly rematch Yuya Yamamoto in the semis, the man he knocked out to win the Japan MAX Tournament. Nashiro was able to excel in a weight class that he was not built for, so I don't see any reason why he can't do it in a more natural weight class for him and maybe even give Yuta Kubo a run for his money in the finals. (Side note: Nashiro came in overweight on his first two attempts and will be deducted a point to start his quarterfinal matchup against Ezbiri)
3. Abdallah Ezbiri - Being the only foreigner in the tournament, Ezbiri has a bit of pressure on him, and it won't be easy as he faces Yuji Nashiro in the opening round. Ezbiri fought Kubo back in June, but was knocked down twice and wasn't able to take a round off of him. It's hard to judge where Ezbiri stands against a fighter like Nashiro, as Kubo can make any fighter look bad. Because of this, and the talent drop off after Nashiro, I have Ezbiri at 3rd and should he get past Nashiro, I would definitely peg him as the favorite of the remaining 3 fighters in his half of the bracket to make it to the finals. I even think he could give Kubo some trouble in the finals, as he has shown some weaknesses in tournament finals.
4. Hitoshi Tsukagoshi - The WILDRUSH League runner-up has one distinct disadvantage as he is coming up from fighting at 63kg, though was not able to move up over the course of a year like Kubo and as so, will likely be one of the smaller fighters in the tournament. That being said, he has a favorable quarterfinal matchup against the struggling Yuya Yamamoto. There's no reason he can't get past Nashiro or Ezbiri in the semifinals, but he will certainly not be the favorite and will need to find some magic if he wants to have a chance of getting to the finals, let alone winning the tournament.
Fighters 5-8 after the break
Read more...