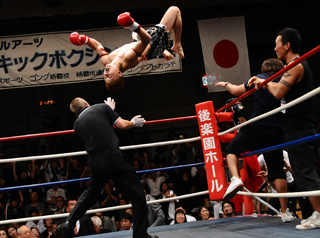 MA Kick held an event titled Kick Guts 2012, a memorial event dedicated to Hisao Maki, founder of the Maki Dojo and a big name in Kyokushinkai, who passed away in January. The event featured an MA Kick title fight, a WPMF title fight, a WBC Japan #1 contender fight, a WPMF Japan #1 contender fight, an MA Kick #1 contender fight and a pair of MA Kick champions taking on well-known Thais in superfights.
In the night's main event, 2010 K-1 Koshien runner-up Hiroki Akimoto remained undefeated in his professional career with a 1st round stoppage due to a cut at 1:28 of Hiroki Fujisawa, netting him the MA Kick Featherweight title. Akimoto cut Fujisawa with an elbow and swarmed on him, leading to a standing 8 count which then led to a doctor stoppage due to the cut. Akimoto (16-0-0, 8 KO) made it to the quarterfinals of the 2009 K-1 Koshien tournament where he lost to finalist Shota Shimada and made it to the finals himself the following year, taking out the likes of Keigo Ishida and 2011 champ Sho Ogawa, before being stopped by Shohei Hareyama in the 3rd round of the final. Despite those losses, Akimoto is still undefeated in his pro career and since that loss to Hareyama, he has now won his last 7 fights by knockout, including KOs of Turbo and Pinsiam Sor. Amnuaysirichok. Though his record is impressive, Akimoto is rather untested and there are a lot of names at 57.5kg that could challenge him, including Yosuke Morii, Genji Umeno, Heihachi Nakajima and even Ryuya Kusakabe, should he move up. Nevertheless, Akimoto has a very bright future with his 20th birthday coming in just over a month and is another exciting product of the K-1 Koshien system.
In the co-main event, former WPMF Japan Welterweight champ Daiki Watabe scored a TKO due to a cut in the 4th round at 2:08 over #1 ranked MA kick Welterweight Yukimaru to earn a shot at Yuya Yamato's WBC Japan Welterweight title. Watabe dropped Yukimaru in the 2nd and 3rd rounds and was in control of the fight until the stoppage. Watabe (13-8-1, 9 KO) is a REBELS regular, though he is just 1-3 in his last 4 fights for the organization and 2-3 in his last 5 overall, dropping a pair of decisions to T-98 which lost him his WPMF Japan title and losing to Chi Bin Lim. This is a solid win for him, though I don't think he has much chance against Yamato. The fight is set for October 7th, which shouldn't be a problem for Yamato who has a tough test in Yuta Kubo on August 26th in Krush.
In a 51kg bout, WBC and WPMF Japan Flyweight champion Ryuji Kato was able to defend his WPMF title with a 4th round KO of Shuichi Wentz at 1:43 via knee. Kato (18-3-1, 9 KO) finished 2011 strong, winning a 4-man tournament with a pair of KOs to claim the first WPMF Japan Flyweight title and then defeating Naoki Otsuki for his WBC Japan Flyweight title. However, 2012 was not as good for Kato, who lost his MA Kick Flyweight title to Yuuji, then followed it up with a loss to Ngoprajan Chuwattana. This win snaps his 2-fight losing streak. After the fight, he called out WPMF Japan Super-Flyweight champ Kiminori Matsuzaki, who defeated his teammate Takuma Ito for the WPMF Japan title. Wentz (15-8-1, 6 KO) had most recently defeated the aforementioned Yuuji in M-1, snapping a 5-fight winless streak that dated back to 2010 which saw him lose twice to TO-MA, go 0-1-1 against Yuki and lose to Romie Adanza. This loss is another setback, though Wentz's only losses have come to top names and usually in title matches. He has a wealth of options, with possible rematches against TO-MA, Yuki and Yuuji, possibly for the MA Kick title, or fresh matchups against Taisuke Degai or Takahiro.
Analysis of Machida-Kanongsuk, Miyamoto-Pinsiam and Sho Ogawa's bout and quick results after the break
Read more...