Albert Kraus Joining GLORY World Series Featured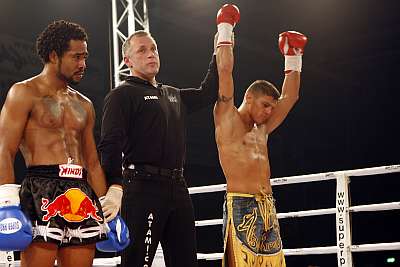 It looks like the latest addition to the GLORY World Series is former K-1 MAX veteran Albert Kraus. The 31 year old Kraus brings a new layer of prestige and legitimacy to the GLORY World Series, with Kraus as a former K-1 World MAX Champion from 2002 as well as a finalist in 2003. Kraus also won the SuperKombat Middleweight Championship in 2011. This move does come as somewhat of a surprise after Kraus being one of the few European fighters to compete in K-1's MAX shows in 2011.
But inside of the Kickboxing world loyalty comes with a price tag, and with the GLORY World Series having a solid prize as well as a lesser field outside of Giorgio Petrosyan, for a fighter like Kraus a trip to the Final 4 seems to be in order. He is looking for his first fight under the GLORY banner to be later on this year, and looks to move into boxing as well.
Dave Walsh has been covering MMA and Kickboxing since 2007 before changing his focus solely to Kickboxing in 2009, launching what was the only English-language site dedicated to giving Kickboxing similar coverage to what MMA receives. He was the co-founder of HeadKickLegend and now LiverKick. He resides in Albuquerque, New Mexico where he works as a writer of all trades.
His second novel, Terminus Cycle, is available now via Kindle and Paperback.
Dave (a) LiverKick dot com | @dvewlsh
Website: www.dvewlsh.com
back to top