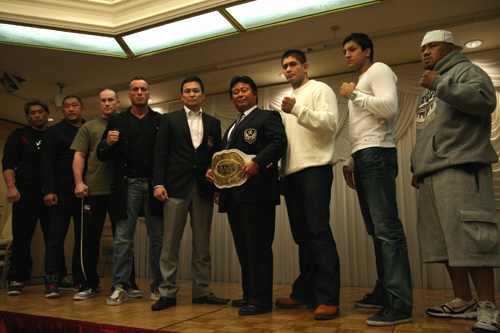 The RISE heavyweight tournament is set to take place in a few hours at JCB Hall in Tokyo and I have decided to break down the GP and rank the fighters by their chances of winning the tournament. With K-1's lack of a heavyweight grand prix this year, RISE has filled the hole, taking two albeit lower tier fighters as K-1 representatives to participate in the tournament in Stefan Leko and Mighty Mo. Other participants include WPMF World Heavyweight champion Fabiano "Cyclone" Aoki, J-Network Heavyweight champion and K-1 fighter Singh "Heart" Jaideep, RISE Heavyweight champion Makoto Uehara, runner-up at the 9th All World Karate Championships Jan Soukup, K-1 veteran Hiromi Amada and RISE Heavyweight title challenger Raoumaru.
1. Fabiano "Cyclone" Aoki: The Brazilian-Japanese fighter has been one of the best heavyweights on the Japanese circuit over the past five years, compiling a 15-1 record since 2007 which included him claiming the RISE, J-Network and WPMF World Heavyweight titles. Aoki has faced fellow GP participant Singh "Heart" Jaideep three times in his career, going 2-1 with the loss coming in a match for the J-Network title and their most recent affair happening just under three years ago. A first round matchup with wild card Jan Soukup could lead to a bad result for Aoki, but with Soukup's lack of experience in the kickboxing world, Aoki should have the edge. Should he win, he has a rather easy path to the finals as Stefan Leko just competed in a tournament last week and Makoto Uehara has a notoriously bad gas tank.
2. Singh "Heart" Jaideep: Most K-1 fans should remember Jaideep for his surprising knockout of Sergei Kharitonov at last year's WGP, but they should also remember him for his dreadful performance against Ewerton Teixeira at the 2009 Final 16. That being said, Jaideep managed to stay close with Teixeira during the fight. At 6'6", Jaideep holds a considerable height advantage over most of his opponents which should help, as his strength is his knees. Along with being 1-2 against Aoki, Jaideep holds a KO win over tournament participant Makoto Uehara. Jaideep gets a decent matchup against the aging Hiromi Amada in the quarterfinals and should he win, he gets the winner of Mighty Mo vs Raoumaru, who could take a good amount of damage in that fight.
3. Stefan Leko: Stefan Leko is not on the same level that he once was, but luckily for him, neither is his competition in this tournament. Leko has just 1 win this year, going 1-6 in his last 7, and is coming off of a knockout loss to Errol Zimmerman just a week ago. Leko has an interesting quarterfinal matchup with RISE heavyweight champion Makoto Uehara. What Uehara lacks in conditioning, he makes up for with power and he would have presented a difficult challenge for anyone to face in the quarterfinals. With Leko's recent woes and coming in beat up from last week's SuperKombat tournament, Leko vs Uehara has upset written all over it. However, there is also a chance that Leko could run the tournament because of the level of competition.
4. Jan Soukup: Soukup is an interesting addition to this tournament as he only has 3 kickboxing fights, though he has a world of experience in kyokushin karate, making it to the finals of 2007's Karate World championships, losing to Ewerton Teixeira. In K-1, he is 1-2 with a knockout loss to Kyotaro and a win over Tsutomu Takahagi. Soukup is a real wild card in this tournament as he could make it to the finals or just as easily be flattened in the quarters. His quarterfinal matchup with Fabiano Cyclone is tough, but should he get past him, it could mean a clear path to the finals.
5. Mighty Mo: Like Leko, this K-1 representative has struggled as of late, losing 4 in a row by KO since his surprising win over Raul Catinas at last year's Final 16. His power is a good asset in this tournament, but his conditioning will likely get the best of him should he make it out of the quarterfinals. He has a matchup with Korean fighter Raoumaru and unless he gets Raoumaru out in the first round, he stands to take some damage as Raoumaru can take a beating and deal some decent damage in the process.
6. Hiromi Amada: Despite his age of 38, Amada is 11-1-1 in his last 13 fights which include wins over Makoto Uehara, Tsutomu Takahagi and Gary Goodridge. Fighting almost exclusively in K-1 from 1999 to 2007, Amada has found a new home in the HEAT organization whose heavyweight title he currently holds. With his age and lack of power, his chances in a tournament are not that great, especially when a majority of the fighters in said tournament are better than him, but stranger things have happened. He takes on Singh Jaideep in the quarterfinals and although he shouldn't be a pushover, I see him struggling to get inside Jaideep's reach and ultimately walking right into a hard knee that ends his night.
7. Makoto Uehara: Uehara is currently on a 4-fight winning streak, though it has come against less than stellar competition. Prior to that, he lost 3 striaght fights in K-1 and HEAT to Tsutomu Takahagi and tournament participants Hiromi Amada and Singh Jaideep. Uehara has power, but virtually no chance to make it through an 8-man tournament unless he has changed his conditioning significantly. He may upset Stefan Leko in the quarterfinals, but past that I don't see him going anywhere.
8. Raoumaru: He's 0-2 against Uehara and his conditioning is just as bad. His quarterfinal with Mighty Mo should be entertaining and he might even win it, but his chances of doing anything after that fight are slim.{jcomments on}