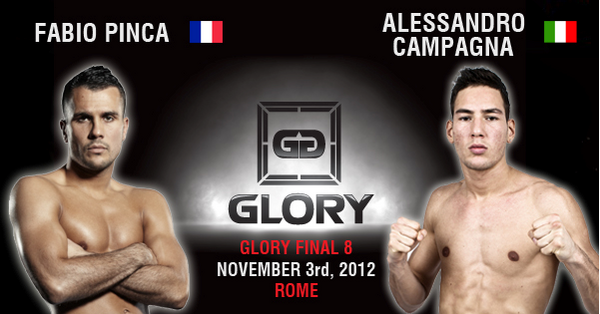 Yesterday GLORY announced Yoshihiro Sato vs. Dzhabar Askerov for their GLORY 3 Rome: Final 8 fight card in Rome, Italy on November 3. Today they announced another fight, also at 70kg.
Fabio Pinca of France fights the hometown fighter from Rome, Alessandro Campagna. Pinca is widely considered as one of the best non Thai Muay Thai fighters. Back in May at the GLORY First 16 in Stockholm, Sweden, Pinca gave Giorgio Petrosyan one of the closer and more competitive fights that Petrosyan has gotten in a while. Pinca will fight anyone, as shown on his resume, already having fought Kem Sitsongpeenong, Saenchai and Aikpracha Meenayothin recently.
For Campagna, this is a huge step up in competition, definitely the best fighter he's ever faced. His career highlight is winning the Soema Na Basi tournament in Suriname last year, defeating three up and coming Dutch fighters in one night, as well as knocking out Houcine Bennoui in the first round. Back in May he was knocked out by Chingiz Allazov (who is a beast, no shame in that), but at just 20 years old one can only assume that it'll be a learning experience for the up and coming Italian fighter.
We expect the fight to be a reserve fight for the Final 8 70kg tournament also taking place on the card.