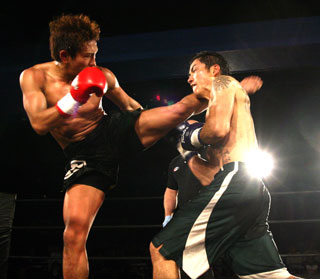 In the main event of the second It's Showtime Japan event, former AJKF Featherweight champion and 2009 Krush Lightweight tournament champion Masahiro Yamamoto defeated WPMF Japan Lightweight champion Arito Tsukahara by majority decision on scores of 30-29(x2), 30-27, 30-28 and 29-29 to make him #1 contender for the It's Showtime 61kg title. Yamamoto is now second in line behind Kan Itabashi to face It's Showtime champion Javier Hernandez and with a matchup between Kanongsuk Weerasakreck and former It's Showtime champion Sergio Wielzen at the next It's Showtime event, there should not be a shortage of quality opposition for the champion. The win is the first for Yamamoto in his last 5 fights and the first since being upset in the qualifying round of the first K-1 63kg GP by Tetsuya Yamato. This fight seemed to be a must win for the former Japanese Lightweight kingpin who had looked less than stellar since the Krush Lightweight GP. On the night of Hisanori Maeda's retirement, Yamamoto took one for AJKF.
In the co-main event WPMF Japan Bantamweight champion Ichinohe Sota and MA Kick Bantamweight champion Takuma Ito fought to a split draw on scores of 49-48, 49-49 and 48-49. This is a bit of a mild upset as Sota was the WPMF champion and was probably next in line for the J-NETWORK Super Bantamweight title that's being unified on October 16th.
WPMF Japan Super Welterweight champion Takeshi Shimizu won a 3 round decision against Techakarin Chuwattana(?) on scores of 30-28(x2) and 29-28.
Former AJKF Featherweight champion Hisanori Maeda held his retirement ceremony at the event.
In a match that could determine Ichinohe Sota's next challenger, #1 ranked WPMF Japan Bantamweight Noro Yuki defeated #4 ranked Jun Miyoshi by unanimous decision with all 3 judges scoring it 30-27. Yuki could be next in line to fight Sota, though Takuma Ito may want a rematch and #2 ranked Nobuchiko Terado could make a case for a title shot as well.
Finally, in a WPMF title match, defending WPMF Japan Women's Atom Weight champion Little Tiger lost a 5 round decision to NJKF Atom Weight champion Chiharu on scores of 50-48, 50-47 and 49-48 to make Chiharu the new WPMF Japan champion. Chiharu lost to Erika Kamimura at Sengoku: Soul of Fight by 2nd round TKO but has put together 4 straight wins since then.
The next It's Showtime Japan event is a co-promotion with M-1 Muay Thai and is headlined by a 61kg bout between Kanongsuk Weerasakreck and Sergio Wielzen. Also on the card are WBC Japan Super Bantamweight champion Genji Umeno taking on Utideto Rukupurabato(?) and WPMF Japan Featherweight champion Yosuke Morii taking on former WBO Boxing Champion Ratanchai Sor Vorapin. {jcomments on}