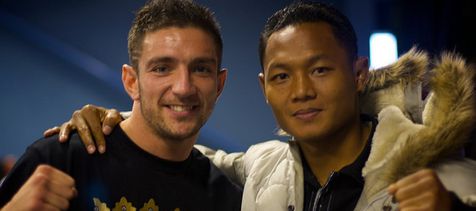 Today in Macau, Muay Thai Warriors held another event with some very interesting fights, including the third fight between Saenchai PKSaenchaimuaythaigym and Liam Harrison, along with Ireland's Stephen Meleady fighting Seeoui Sor Sunantachai for the Muay Thai Warriors Featherweight Title.
Last month, Saenchai defeated Pakorn Baanpiaoom and Damien Alamos within the span of two weeks in a highly impressive feat. Coming into the fight, myself and others gave Liam a good chance to win here. But Saenchai did as Saenchai always does, and won a clear cut unanimous decision over Liam Harrison.
Harrison fought well over the course of the fight, landing a number of hard low kicks that he's become known for. Saenchai was able to dictate the fight with his sublime skills. That makes it three wins in a month's time for Saenchai, and when you consider the competition that he did it against, it's quite amazing.
Stephen Meleady of Ireland has made a name for himself this year in Muay Thai with great fights against Rungravee Sasiprapa and Kongnapa Sirimongkol and faced another action fighter in Seeoui Sor Sunantachai. Meleady seemed to take control with his knees and clinch work in the fourth and fifth rounds but Seeoui was given the decision. I personally thought Meleady won. Here's a link to the fight where you can decide for yourself.
Harrison vs. Saenchai can be watched here.