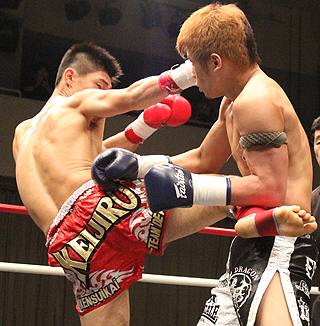 Yesterday, NJKF held the second installment of its Kick to the Future series which have so far featured WBC title fights and some big names in Japan like Tetsuya Yamato, Koya Urabe, TOMONORI and Kenta.
This installment's biggest feature, although it wasn't the main event, was a 63kg bout between NJKF Lightweight champ Keijiro Miyakoshi and Koya Urabe which saw Miyakoshi squeeze out the upset by majority decision on scores of 29-29 and 30-29(x2). This bout was contested without elbows so it seemed like Urabe would have a slight advantage. Miyakoshi (11-3-1, 4 KO) had his best year in 2011, going 3-1 with one of those wins in a rematch against Ikki for the NJKF Lightweight title and another against Akihiro Kuroda for the right to face WBC Japan Lightweight champion Rashata. Rashata was set to be Ryuji Kajiwara's first title challenger in Krush so with Miyakoshi's win here, if he were to fight Rashata next, the winner could get a shot at Kajiwara or whoever the Krush champion could be at the time. Everything else aside, huge win for Miyakoshi and this definitely makes him a major player at 63kg. Urabe (18-4-0, 2 KO) is now 1-2 in his last 3, but he's fought a top fighter in almost every one of his past 15 fights. That being said, Urabe barely got past Kizaemon Saiga and the knockout loss against Noiri could be having some lingering effects for the defensively deficient fighter. I think he'll bounce back from this well because he's a decision fighter who's just hit a bit of a rut against top competition and there's no shame in that.
In the real main event, Yosuke Morii snapped a 2-fight losing streak with a 5th round knockout at 2:31 over Heihahci Nakajima to win the vacant WBC Japan Featherweight title. Morii (18-3-2, 8 KO) had his fight with Genji Umeno built up quite a bit, but Morii got dominated en route to a one-sided decision loss, then went over to Thailand with Umeno, where both of them lost. This win should restore some confidence for Morii as Nakajima is a tough out. Nakajima (12-4-0, 4 KO) had won two straight coming into this fight, most recently against Chao "Shimura" Logate in HEAT.
In a NJKF Bonita Boxeo Featherweight title fight, reigning champion Azuma defended her title for the first time over Team Dragon's Satoko Sasaki by unanimous decision on scores of 30-29 and 30-28(x2).
In a 56kg bout, MA Kick Super Bantamweight champ Keisuke Miyamoto edged out NJKF Super Bantamweight champ Arashi by majority decision on scores of 30-29, 29-29 and 30-28. Miyamoto (13-1-0, 5 KO) was coming off of a knockout win of MA Kick Featherweight champ Minoru Junibayashi and is now on a 4-fight win-streak. Arashi (10-4-0, 4 KO) is 1-2 in his last 3 now, but just won the NJKF Super Bantamweight title in his most recent fight before this one.
NJKF has also set up a "New Japan Wars 2012" series which is aimed at making 8-man and 4-man tournaments in most, if not all of their weight classes to determine title challengers.
At this event, at Super Bantamweight #4 ranked Hiroya Haga took a unanimous decision over #3 ranked Hiroki Maeda. At Featherweight #7 ranked Shoya Suzuki knocked out Yuya Kai in the 3rd round and #8 ranked Takuma took a unanimous decision over #4 ranked Hiroshi Senchaigym. At Super Welterweight, #7 ranked Hiroki Yamamoto knocked out #5 ranked KEN in the first round. At Super Featherweight, #8 ranked Takeshi Tsuruya took a unanimous decision over #5 ranked Tatsunori. And at Super Lightweight #2 ranked Marimo took a TKO via cut win over #9 ranked Kaz Miyazawa.
Quick results below
Results thanks to gbring and boutreview
WBC Japan Featherweight Title Fight: Yosuke Morii def. Heihachi Nakajima by 5th round KO (punches) at 2:31 to win the vacant WBC Japan Featherweight title
NJKF Bonita Boxeo Featherweight Title Fight: AZUMA (c) def. Satoko Sasaki by 3rd round Unanimous Decision (30-29, 30-28, 30-28)
63kg Fight: Keijiro Miyakoshi def. Koya Urabe by 3rd round Majority Decision (30-29, 30-29, 29-29)
56kg Fight: Keisuke Miyamoto def. Arashi by 3rd round Majority Decision (30-29, 29-29, 30-28)
New Japan Wars 2012 Super Bantamweight Fight: Hiroya Haga def. Hiroki Maeda by Unanimous Decision (30-29, 30-28, 30-28)
New Japan Wars 2012 Featherweight Fight: Shoya Suzuki def. Yuya Kai by 3rd round KO (left hook) at 0:38
New Japan Wars 2012 Featherweight Fight: Takuma def. Hiroshi Senchaigym by 3rd round Unanimous Decision (30-29, 30-28, 30-28)
New Japan Wars 2012 Super Welterweight Fight: Hiroki Yamamoto def. KEN by 1st round KO (right hook) at 1:28
New Japan Wars 2012 Super Featherweight Fight: Takeshi Tsuruya def. Tatsunori by 3rd round Unanimous Decision (30-29, 30-29, 29-28)
New Japan Wars Super Lightweight Fight: Marimo def. Kaz Miyazawa by 2nd round TKO (cut) at 0:30