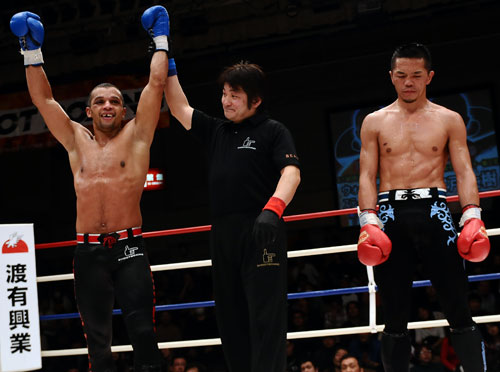 Last night at Korakuen Hall in Tokyo, Shootboxing held its first big event of 2012. The emphasis on this card and in Shootboxing as of late seems to be on matching up fighters of different disciplines under Shootboxing rules as opposed to bouts between Shootboxing fighters. This could be seen as the card was headlined by Shootboxing star Hiroki Shishido vs K-1 veteran Warren Stevelmans as well as a 70kg bout between former boxer Satoru Suzuki and former thaiboxer Bovy Sor Udomson. Also in action were Shootboxing Women's Flyweight champion Ai Takahashi against 17 year old karate fighter Mizuki Inoue and Shooto legend Mamoru Yamaguchi taking on Shootboxing prospect Kazuyuki Fushimi.

In the night's main event, Shootboxing star Hiroki Shishido lost his third straight fight to South African Warren Stevelmans by unanimous decision on scores of 47-44, 46-44 and 47-46. It appears that the fight was a grueling affair with Shishido attempting to use throws and submissions to wear down Stevelmans while Stevelmans got the better of the striking exchanges. I believe Stevelmans scored two knockdowns while Shishido was able to get a shoot point. Stevelmans (55-15-4, 16 KO) first broke out in K-1 in 2008, winning the 2008 Netherlands qualifier tournament, defeating Chris Ngimbi and Marco Pique en route to his first shot at the Final 16. He made it to the quarterfinals before losing to Andy Souwer, which was part of a rough streak from 2008-2009 that saw Stevelmans go 3-6, however his losses were to Gago Drago, Souwer, Giorgio Petrosyan, Albert Kraus, Orono Wor Petchpun and Saiyok Pumpanmuang. Recently, he made it to the finals of the 2011 K-1 MAX Madrid tournament, losing to Rafi Zouheir in the finals and since has scored wins over Mohammed Medhar and Zeben Diaz, drew with Armen Petrosyan and lost to Buakaw Por Pramuk in his last fight. At 34, Shishido (48-12-0, 20 KO) is having his age catch up to him quite a bit. Since September of 2010, Shishido is just 1-5 and two of the losses in his current streak came to MMA fighters Toby Imada and "Lion" Takeshi Inoue.
In the co-main event, Shootboxing converts Satoru Suzuki and Bovy Sor Udomson fought in what appears to have been a thrilling affair which saw Bovy floored two or three times by Suzuki in the first round only to come back and go toe to toe with the former boxer. Despite Bovy's comeback, his first round deficit was too large and he lost a unanimous decision on scores of 28-26(x3). With the win, Suzuki improves his pro kickboxing record to 7-10-0, 5 KO and continues his up and down career as he was coming off of a loss to Christophe Pruvost at Shoot the Shooto back in November. The win also gets Suzuki's foot in the door for this year's S-Cup and if he is able to put together another win or two against top competition, expect him to be included in his first S-Cup. Bovy (84-44-2, 52 KO) was on a 2-fight win streak in Shootboxing with wins over Toby Imada and Gago Drago after a rough start to 2011 which saw him lose 3 straight fights. While the loss may jeopardize his spot in this year's S-Cup, it will not jeopardize his spot at the top of Shootboxing's cards as he has put on wildly entertaining bouts against Takaaki Umeno, Hiroki Shishido and Gago Drago and appears to have put on another great fight for Shootboxing.
In what has to be seen as probably the biggest upset of 2012 so far, 17 year old karateka and JEWELS MMA -56kg Rough Stone GP winner Mizuki Inoue was able to sneak by Shootboxing Women's Flyweight champion Ai Takahashi in an extension round, winning on scores of 10-9(x3) after a majority draw on scores of 30-29, 30-30 and 29-29. Inoue appeared to have utilized good head movement to avoid Takahashi's offense while counter-striking and scoring with her own. The win for the 17 year old Inoue (4-1-0, 0 KO) shakes the women's Flyweight division as Inoue only had 4 prior kickboxing bouts, two of which were under Shootboxing rules, and because she is splitting time between kickboxing and MMA. Inoue will likely receive an invite to this year's Girls S-Cup. The loss for Takahashi (11-3-0, 5 KO) is devastating as she had become divisional kingpin by default with RENA's victory over Erika Kamimura at RISE 85 in November. Likely a factor in the loss was Takahashi's 7 month layoff due to an orbital bone injury. This year's Girls S-Cup should be essential in determining who the top of the crop is as it will likely include Takahashi, Inoue, RENA and Erika Kamimura.
In another MMA vs Shootboxing bout, Shootboxing prospect Kazuyuki Fushimi took on former Shooto Bantamweight and Featherweight champion Mamoru Yamaguchi, but Fushimi was unable to pick up his second straight win against an MMA fighter as Yamaguchi won a close majority decision on scores of 29-29 and 30-29(x2). Yamaguchi (4-1-0, 0 KO) gets a win in his first fight in Shootboxing in over 2 years and although he was not one of the four men selected to participate in the first UFC Flyweight tournament, Yamaguchi is still a top contender and as he has proven in Shootboxing, has the striking to challenge anybody in the division. Fushimi (14-9-0, 4 KO) has had trouble staying consistent and has faltered against all of his name opponents save MMA fighter Junji Ito, but at just 20 years old he still has time to sharpen his tools and possibly become a threat to the top 55kg fighters in Japan.
Finally, Shootboxing prospect Masaya Matsuhana took a unanimous decision over MMA fighter Tenkei Oda on scores of 30-28, 30-26 and 29-26.
Quick Results after the break
70kg Fight: Warren Stevelmans def. Hiroki Shishido by 5th round Unanimous Decision (47-44, 47-46, 46-44)
70kg Fight: Satoru Suzuki def. Bovy Sor. Udomson by 3rd round Unanimous Decision (28-26, 28-26, 28-26)
54kg Women's Fight: Mizuki Inoue def. Ai Takahashi by Ext. round Unanimous Decision (10-9, 10-9, 10-9) after a 3rd round Majority Draw (30-29, 29-29, 30-30)
56kg Fight: Mamoru Yamaguchi def. Kazuyuki Fushimi by 3rd round Majority Decision (30-29, 30-29, 29-29)
65kg Fight: Masaya Matsuhana def. Tenkei Oda by 3rd round Unanimous Decision (30-28, 30-26, 29-26)
65kg Fight: Yusuke Sugawara def. Tappuron ForceGym by Ext. round Unanimous Decision (10-9, 10-9, 10-9) after a 3rd round Majority Draw (30-30, 30-30, 30-29)
60kg Fight: Akifumi Utagawa def. Makoto Yamauchi by Ext. round Unanimous Decision (10-9, 10-9, 10-9) after a 3rd round Majority Draw (28-28, 28-28, 28-29)
60kg Fight: Koji Ikegami def. Kouya Shimada by 3rd round Split Decision (30-29, 29-30, 30-29)
70kg Fight: Yuki Sakamoto def. Shinichiro Kuroki by 3rd round Unanimous Decision (30-28, 30-27, 30-27)
65kg Fight: ATSUSHI def. Tatsuya Shiozaki by 1st round KO at 1:48
47kg Women's Fight: MIO def. Tsubaki Oshima by 3rd round Majority Decision (30-29, 30-29, 29-29){jcomments on}