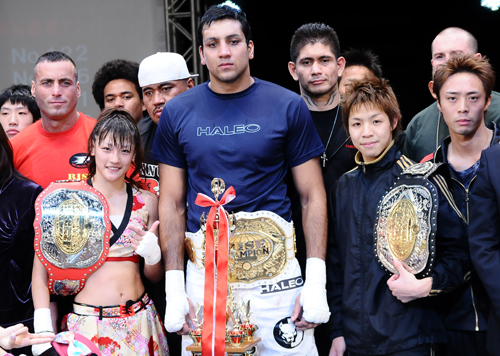 Earlier today at JCB Hall, RISE held its 2011 Heavyweight tournament featuring the likes of Stefan Leko, Mighty Mo, Singh "Heart" Jaideep and Fabiano Cyclone, as well as its first women's title fight in Erika Kamimura vs RENA, a superfight between Super Featherweight champion Kosuke Komiyama and Sergio Wielzen, a superfight between Super Lightweight champion Koji Yoshimoto and Son Hyun Lee and a Bantamweight title fight between Kenji Kubo and Dyki.
The quarterfinals of the heavyweight tournament featured three upsets. In a somewhat expected upset, RISE Heavyweight champion Makoto Uehara beat up K-1 veteran Stefan Leko en route to a unanimous decision victory on scores of 30-27(x2) and 30-26. Uehara scored a down in the third round, but was on his way to victory as he was all over Leko who had two fights just a week ago in the SuperKombat tournament. In another slight upset, WPMF World Heavyweight champion Fabiano "Cyclone" Aoki received just his second loss since 2007, losing to Kyokushin karate fighter Jan Soukup by majority decision on scores of 29-28(x2) and 28-28. Cyclone appeared to do well throughout most of the fight, but fell victim to a down in the second round which cost him the fight. In the other half of the bracket, K-1 fighter and J-Network Heavyweight champion Singh "Heart" Jaideep defeated K-1 veteran Hiromi Amada by 2nd round TKO as a result of a cut caused by a knee. In the final quarterfinal bout, RISE Heavyweight title challenger Raoumaru was able to outland and outlast K-1 fighter Mighty Mo, scoring a 3rd round KO at 2:49 into the round.
In the semifinals, RISE HW champ Makoto Uehara continued his run, edging out Jan Soukup in an extension round on scores of 10-9(x3) after judges had determined the fight to be a majority draw after 3 rounds, with scores of 29-28, 29-29 and 28-28. In the other semifinal, Singh "Heart" Jaideep made short work of Raoumaru, scoring a 1st round KO at 1:39 with a knee strike.
In the finals, K-1 fighter Singh "Heart" Jaideep defeated RISE Heavyweight champion Makoto Uehara by 1st round KO to win the RISE Heavyweight tournament. The knockout capped off a great performance from Jaideep who finished off all three of his opponents and is now 2-0 against Uehara.
In the night's co-main event, 2-time Girls S-Cup champion RENA defeated WPMF, WBC Muay Thai and WMC Light Flyweight champion Erika Kamimura by razor-close unanimous decision on scores of 47-46(x2) and 46-45 to become the first Queen of RISE. I believe the only thing keeping the fight from a draw is a pair of penalties for Kamimura and one for RENA, though it could have been one penalty each, I am not entirely sure.
In the night's final title fight, former NJKF Flyweight champion Kenji Kubo, brother of Yuta Kubo, defeated RISE #1 ranked Bantamweight Dyki by 1st round KO at 1:35 to win the vacant RISE Bantamweight title.
In super fights, RISE Super Featherweight and Super Lightweight champions Kosuke Komiyama and Koji Yoshimoto won, with Komiyama defeating former It's Showtime 61kg champ Sergio Wielzen by 1st round TKO and Yoshimoto edging out a win over top Korean Son Hyun Lee on scores of 29-28, 29-27 and 28-27. Lee started with a 1 point penalty for weighing in over the limit and another penalty was given in the fight for clinching, though I'm not sure to who. The Komiyama-Wielzen fight was stopped due to a cut.
Brother of Kosuke Komiyama, Yusuke Komiyama made his pro debut, fighting to a draw.
Quick Results after the break
Quick Results
RISE HWGP Final: Singh "Heart" Jaideep def. Makoto Uehara by 1st round KO at 0:38
Queen of RISE 48kg Championship: RENA def. Erika Kamimura by 5th round Unanimous Decision (47-46, 47-46, 46-45)
RISE Bantamweight Championship: KENJI def. Dyki by 1st round KO at 1:35
RISE HWGP Semifinal #2: Singh "Heart" Jaideep def. Raoumaru by 1st round KO at 1:39
RISE HWGP Semifinal #1: Makoto Uehara def. Jan Soukup by Ext. round Unanimous Decision (10-9, 10-9, 10-9; 29-29, 28-28, 29-28)
61kg Super Fight: Kosuke Komiyama def. Sergio Wielzen by 1st round TKO (Cut) at 2:08
65kg Super Fight: Koji Yoshimoto def. Son Hyun Lee by 3rd round Unanimous Decision (29-28, 28-27, 29-27)
RISE HWGP Quarterfinal #4: Raoumaru def. Mighty Mo by 3rd round KO at 2:49
RISE HWGP Quarterfinal #3: Singh "Heart" Jaideep def. Hiromi Amada by 2nd round TKO (Doctor Stoppage) at 2:59
RISE HWGP Quarterfinal #2: Jan Soukup def. Fabiano "Cyclone" Aoki by 3rd round Majority Decision (29-28, 29-28, 28-28)
RISE HWGP Quarterfinal #1: Makoto Uehara def. Stefan Leko by 3rd round Unanimous Decision (30-27, 30-27, 30-26)
RISE HWGP Reserve Fight: Taisei Ko def. Taichi Furuta by 3rd round Split Decision (29-28, 27-28, 28-26)
{jcomments on}