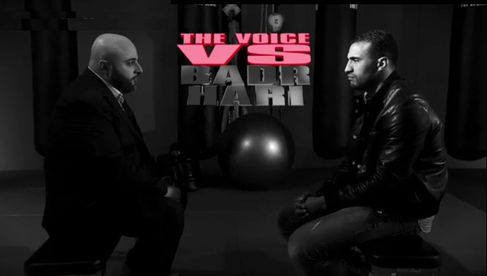 Badr Hari's public image has been dragged through the mud over the last few years, which has both earned him the ire of many fans but in the same vein made him larger than life and one of the biggest names in the kickboxing world, bar none. Some say that no attention is bad attention for the famous, and in Badr Hari's case the mythos surrounding him, his skill and him as a fighter has only grown. There have been a few interviews over the past few months which have painted Badr Hari in a very, very shades of grey light, with him looking like a sociopath at times. So when it was announced that Michael Schiavello would interview him for his Voice Versus series on HDnet, I wasn't sure how to feel. Then when Schiavello talked about how it was a rather "dark" episode for the usually light-hearted series I was expecting a lot more of the no-good Badr Hari.
Thankfully Schiavello, who is himself a huge Badr Hari and kickboxing fan knows how to walk the line really well in interviews such as this. Schiavello made sure to switch things up from the tough questions that Hari seemed to pause and really have to stop and think during and the questions that had Hari laughing and joking around. Some of the questions, such as how does he feel about knocking out opponents and what happened in those terrible DQ losses where his temper got the best of him show the darker side of Hari, and just how intense he really can be. Then he switches things up to talk about what kind of movies Badr Hari likes and plays the knock out, choke out, wedgie and bowl of fried shrimp game.
I think for Badr Hari this interview was important, as in the United States a lot of the interviews we've seen from Hari have been in Dutch and translated, sometimes a bit too literally and do not paint him in the best light. Hari showed some serious signs of growth when it came to talking about some of his criminal connections in the past, and he talks about him being an impressionable kid and that he has matured a lot and moved away from that. Badr Hari's career came into the limelight at the tender age of 20, where it is entirely possible to imagine a kid who worked hard to come up and become a name being offered things and not knowing how to say no.
Kudos to Schiavello and HDnet for taking the time to interview one of the most popular kickboxers in the world and actually taking the time to let him tell his side of the story as well as have some fun with him. Be sure to watch it on HDnet this Friday evening, June 24th at 10PM Eastern, followed by It's Showtime Amsterdam.